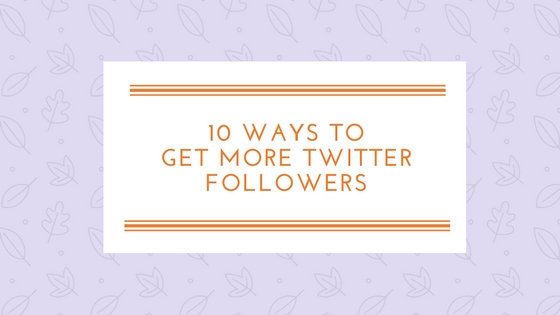 We all want large, engaged communities on social media. This not only "looks good," it also adds a certain element of social proof that certainly doesn't hurt.
A highly targeted, engaged audienc
e means more brand awareness, more clicks on your content, more website traffic, and inevitably more conversions.
While Facebook has a massive user base, the content is filtered, which makes it really difficult to get your posts out in front of your audience unless you're willing to pay to play.
Twitter, on the other hand, could be compared to a fire hose with its unfiltered, never-ending stream of content. Because it's unfiltered there is literally no limit on the number of people you can reach.
You just have to get them to follow your Twitter account.
So how do you get more Twitter followers? Check out this list of the top 10 ways to grow your community on Twitter.
Optimize your bio.
Your Twitter bio is actually searchable, so you want to make sure that you're using the same keywords that your audience is going to use if they're searching for someone with your skills. In addition to being a great place to put keywords, however, it's also a great place to let your audience know exactly what you do and how you can help them. And don't be afraid to get a little personal! Let people know what your interests and values are or show them you have a sense of humor. Your bio is a great place for people to first establish a connection with you.
And whatever you do, don't leave it blank! If people can't tell what you're all about and what kind of content you publish, they will be far less likely to want to follow you.
Like this tip? Tweet it!
Make it easy for people to follow and share from your blog.
While many people may find you through social media, others may find you organically through the search results. You want to make it easy for those people to locate your Twitter account (as well as your other social media accounts). Make sure you have a Twitter widget in an easy-to-find location on your website or blog.
Also make sure you have social sharing buttons on every blog post to make it easy for readers to share the post directly with their followers.
Use plugins like Click to Tweet. Click to Tweet is a very simple WordPress plugin that allows you to turn your content into tweetable quotes. This easy-to-use plugin makes it simple for people to retweet your content, and by simply being there it encourages them to do so. Plus, YOU get control over what the tweets say.
Like this tip? Tweet it!
Follow your ideal customers.
This is important, because if you follow the right accounts, your content and the messaging in your bio will resonate with them and they will be more inclined to reciprocate and follow you back.
On the other hand if you're following the wrong people (or just following anyone at all), they will be far less likely to be interested in what they read in your bio and in the content you're tweeting, which will make them much less likely to follow you in return.
Try to follow people based on conversations they're having on Twitter (you can perform keyword searches using the advanced search feature), by following the people who follow key influencers, or by following your competitors' followers.
Like this tip? Tweet it!
Be sociable.
It's really difficult to build an engaged audience if you aren't actually engaging with anyone online. Trust me; no one wants to follow a broadcaster.
If you don't have someone to manage your social media for you, try blocking out a portion of your day to engage and respond to direct messages and @mentions. Make sure you're thanking people for retweeting your content, as well. Politeness goes a long way on Twitter.
Like this tip? Tweet it!
Go visual.
Did you know that images on Twitter get 18% more clicks, 89% more favorites and 150% more retweets?
Just simply adding more visual elements like videos and images will help to get more eyeballs on your content, which will in turn help you get more followers.
You could also consider adding tweet cards. Like all other visual elements on Twitter, tweet cards get more engagement than text updates. Since your followers are engaging with your tweet cards and retweeting them, you are likely to accumulate more followers in the process. You can also use them to grow your email list at the same time. Bonus!
Like this tip? Tweet it!
Avoid sending too many tweets in a short period of time.
Use management tools like Hootsuite, Buffer, Post Planner, or Social Oomph and space your tweets out so they are tweeted throughout the day. If you're sending too many tweets in a short period of time you'll start to monopolize your followers' newsfeeds, which is more likely to cause you to lose followers than gain new ones.
Like this tip? Tweet it!
Tweet more often.
You also want to make sure that you're providing value at all times, so tweeting just to get SOMETHING into the newsfeed won't do you any favors.
However, if you're only tweeting once or twice a day, the vast majority of your audience will probably never see your content because they may not be online at the time you're tweeting. This means they won't be able to retweet your content to their own audiences, which will limit the growth of your community.
I recommend tweeting hourly for at least 12 hours a day. You can tweet even more frequently if you have a large and engaged Twitter community.
Like this tip? Tweet it!
Tweet a variety of content.
I'm not just referring to tweeting a variety of types of media (like images, videos and text updates) although that's important too. I'm referring to sharing a variety of types of content, from blog posts to quotes to humor. Make sure that you're always providing value and creating content your audience is interested in seeing.
Like this tip? Tweet it!
Include hashtags with every tweet.
Hashtags, formerly known as the pound sign, are essentially ways of tagging your content and making it searchable by topic. I recommend Hashtagify.me for finding hashtags that are being commonly used in your niche. This simple, free tool will help you to get a better idea of the most frequently used hashtags that are related to a central topic.
Like this tip? Tweet it!
Join tweet chats.
Tweet chats are, essentially, conversations that are scheduled for a specific time and date, where users will get on Twitter to discuss a specific topic. Because they're based around a topic or industry, they're a great way to grow your followers among people a specific subject, ideally related to your industry in some way.
Like this tip? Tweet it!
Final Thoughts
While you don't want to grow a Twitter following just for the sake of having large numbers, a large, targeted community can have a huge impact on your business. Improved brand awareness and an increase in traffic to your site means more email subscribers and more conversions for your business. It's just a matter of getting out there, getting engaged, creating great content and following the RIGHT people.
So what are you waiting for? Time to jump in and get started!