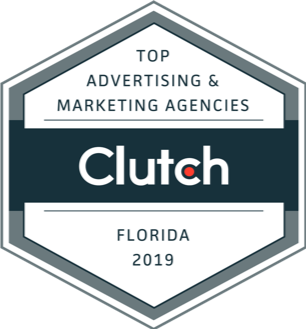 At Digital Elevator, we are committed to elevating our client's brand. We accomplish this by providing high-quality search engine optimization and digitally targeted marketing. SEO and digital marketing are surely our strong suits, and with the global economy's increasing dependency on technology, we understand that our work is as important as ever to our clients. After being reviewed by Clutch as one of the top digital marketing agencies in Florida, we are proud to see that playing to our strengths has made our client's incredibly successful
Clutch, headquartered in Washington D.C., is a rating and reviews firm for B2B companies. What separates Clutch from its competitors is its insistence on client interviews in its review and rating process. The process starts with Clutch analysts performing market research and analysis but importantly ends with analysts performing a verified phone interview with clients from the company. Clutch's holistic approach for reviewing companies is unlike any other firm out there, and is a major reason why we are so glad that Clutch has reviewed us so highly. Our profile currently has 5.0 stars out of a possible 5.0 stars and has over 7 verified client reviews! We would love to share some of our clients comments from their reviews, which we have included below:
"Their dedication to elevating our online presence while teaching valuable skills made them an asset."
– Founding Attorney, The Lewin Law Firm
"They're highly professional, and they get the job done. It's just that simple."
– CEO, THC Physicians
Clutch also has two associate sites, The Manifest and Visual Objects. The Manifest is similar to Clutch but provides the company's size, location, and average hourly wage, with just one click. This feature allows for easy comparison by the client between companies found on the site. Furthermore, The Manifest also has a How-To Guide, designed to help clients who are seeking to employ the services of a 3rd party found on the site. The Manifest has ranked us as one of the top content marketing agencies and we invite you to check out our Manifest profile!
Visual Objects is Clutch's newest sister site and creates a visual portfolio for each client found on the site. This allows for clients looking for a creative design company to easily compare and contrast the past works of the companies they are looking at. The site's design ultimately helps clients choose the company they believe will execute their vision the best. Visual Objects has ranked us as among other top creative and design agencies on the site and we couldn't be happier to be ranked on all 3 of Clutch's sites!
Digital Elevator is incredibly happy to be reviewed and awarded by Clutch. However, we understand we would not be here without our clients, and we are incredibly thankful to our clients for taking the time to be interviewed by Clutch. We look forward to continuing our partnership with Clutch in the future and can't wait until we get more client reviews!