Are you looking to get some online exposure for your local business but don't know which local SEO option is right for your business and budget? Let's break it down for you.
As a business that specializes in local SEO campaigns, I see a lot of the other offerings that are labeled as "local SEO" but that vary greatly in services and deliverables.
We have clients that have worked with some very large corporations that seemingly did nothing, worked with others that pay a monthly fee for a service but don't realize it is not enough to meet their business goals, and others that don't really know what they are paying for.
Today, I'd like to clear some things up so that I help at least one business owner understand what to expect before choosing one of the three types of local SEO services that are commonly offered.
To be clear, when we talk about local SEO we are talking about services that help a local business (city-specific) to rank in the search engines when relevant queries are entered (ex. "gym West Palm Beach").
What Makes a Site Rank Locally?
Before we get into these three types of local SEO, let's take a quick look at what a prominent local SEO correlation study says about what really makes a site rank. This is really, really important because if you have a certain expectation in mind from your local SEO campaign and the service you are paying for doesn't deliver on the type of service that is needed (correlated) with helping you rank, your expectations won't be met.
Local SEO Ranking Factors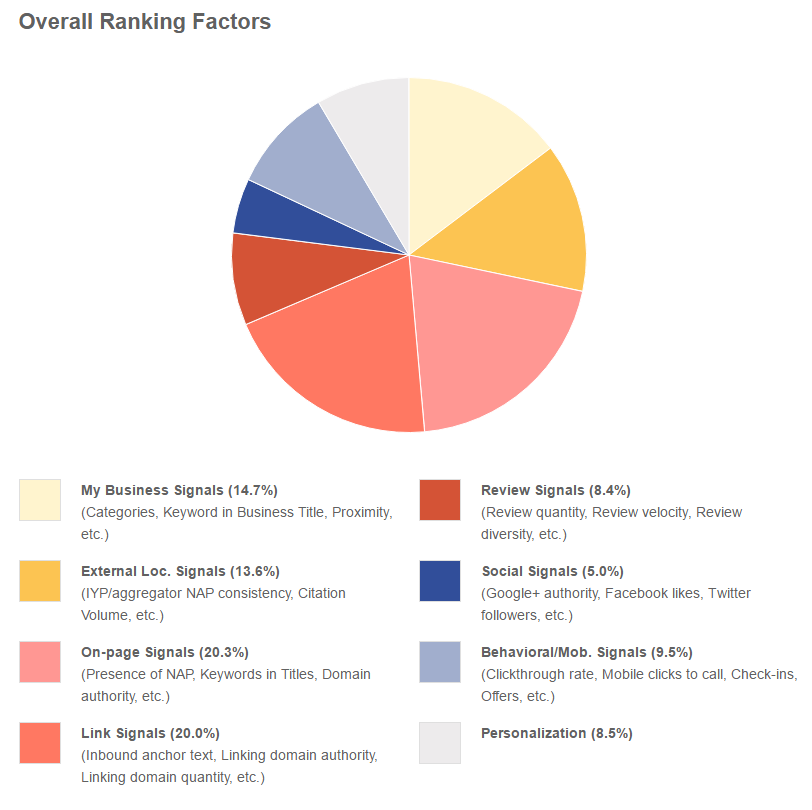 Source: Moz
the four most highly correlated ranking signals are On-page Signals (20.3%), Link Signals (20%), [Google] My Business Signals (14.7%), and External Location Signals (13.6%)
As seen above, the four most highly correlated ranking signals are On-page Signals (20.3%), Link Signals (20%), [Google] My Business Signals (14.7%), and External Location Signals (13.6%). We will refer back to these correlations when looking at the three types of local SEO services:
Automated Location Management Services
Cookie-cutter Local SEO Services
Boutique SEO Firms/SEO Agencies Services
Automated Location Management Services
Automated location management services are amongst the most entry-level of all local SEO campaigns. These services help businesses get listed on a number of popular directories (Bing, Yelp, Best of the Web, etc.) across the internet.
Getting listed on directories is a form of local SEO called citation building, and is related to the fourth-most highly correlated local SEO ranking factor mentioned above, External Location Signals.
Business owners will pay a monthly or annual fee to have these services automatically submit their business information – Name, Address, Phone Number, website, etc.) – to a decent number of sites (usually like 40 or more) to ensure consistency across the web.
Having consistent citation listings and a large number of these citation listings is correlated with higher rankings, but my experience is that it is very unlikely to help a business rank in the search engines for related queries without having some SEO services done in the other top three search signals mentioned.
Companies that offer this type of service include Moz Local, Yext, or Synup and the prices per location vary from about $80 per year up to $500 depending on the package you get. If you stop paying, your listings go away, so the long-term value here is not great.
These can be good options for companies who may get a lot of traffic from directories. I've seen restaurants, gyms, and contractors get leads this way. However, as these services alone tend not to actually see businesses rank in the search engines, they do little else but help to clean up one aspect of a much larger, true SEO campaign.
Cookie-cutter Local SEO Services
I find it laughable when automated messages call me to tell me, the owner of an SEO company, that I need to claim my Google Business page or that it has issues. Perhaps you've experienced these automated phone calls too? These are the ones that are generally associated with a company offering cookie-cutter local SEO services.
I don't use the term cookie-cutter to connote that these are bad, merely that they don't customize the campaigns the way an SEO agency would. More on that below.
Using the scare tactic of letting you know that your Google My Business page is inaccurate or needs to be claimed (which is free by the way, just follow the previous link), these companies will get their foot in the door and then go on to let you know about their local SEO services.
These services often will include some of the above-mentioned automated local management services but may also include a small business website, Facebook ads, distribution of special offers across some directories, and even some email marketing help.
To the uninformed small business owner, this kind of multiple channel visibility can sound quite good, but the reality is that resources that go into the multiple channels is so low that leads or sales can be hard to come by. Like the automated local management services, when you stop paying for these services there is not much online to indicate you ever had a presence at all.
Companies like Yellow Pages, Hibu and Yodle provide these types of services for about $400 to $900 a month, depending on add-ons. These may be a good option for business owners who want some kind of exposure but aren't ready for a full-scale SEO campaign.
In terms of checking items on the Overall Ranking Factors correlation graph above, look for these services to help with External Location Signals (13.6%), Review Signals (8.4%) and Social Signals (5%).
Boutique SEO Firms/SEO Agencies Services
If you are really looking to make a dent in local search engine traffic and are interested in partnering with a company that will accomplish all of the items mentioned in the aforementioned local SEO correlation study, you'll want to work with either a boutique SEO firm or an SEO agency that offers local SEO services.
A boutique firm is a small SEO company and may consist of just one employee who does all the work for you versus an agency that may have multiple people working on your campaign.
Expect these type of local SEO campaigns to work on On-page Signals (the most highly correlated factor at 20.3%) that are related to actually getting in your website and optimizing it or sending over recommendations to your developer. You can also expect these companies will also help you to create some kind review strategy (Review Signals (8.4%)), help with social media (Social Signals (5%)), and assist with Behavioral/Mobile Signals (9.5%) and Personalization (8.5%).
These campaigns will also ensure that your Google My Business (My Business Signals, 14.7%) page is setup properly, and work with you on things like building out directory listings to help with those External Location Signals (13.6%).
Just to note, claiming citations and ensuring consistency across them is better done manually, as the listings will remain even after you stop paying the SEO company, unlike with the automated services mentioned above. I'd recommend that the SEO company you choose does, in fact, build manual as opposed to automated directory listings.
My experience is that almost all boutique SEO companies and SEO agencies will do the above – meeting seven out of the eight overall ranking factors. However, many companies don't spend time on the second most important ranking factor, Link Signals (20%), and it is my experience that in competitive industries (law, medical, financial, construction, fitness), omitting this service is a disservice.
Custom local SEO campaigns like these are the most expensive and require a substantial financial and time-related investment. Most companies that offer all of these services charge $1,000 to $2,000 per month, and these costs may not account for things like content creation (which is actually related to On-page Signals, 20.3%), social media management, or paid advertising.
However, given the correlational data that is associated with solid search engine rankings and therefore more website visits, leads and ultimately sales, it is often the most valuable option in terms of ROI.
Which Local SEO Service is Right for You?
My bias, of course, lies within full-service local SEO campaigns but this doesn't mean that the other options won't justify their costs. I have seen businesses get sales from automated local management services as well as cookie-cutter services. But, I've seen the power of an agency-level local SEO campaign and seen the returns make the most sense from a business perspective.
I hope the above information helps you lean towards one service over the other and gives you a good idea of what you can expect from each. At the end of the day it should be all about ROI, and if the cheapest package helps you sell, it may be the option that makes you happiest.