Are you considering Yext as part of your local SEO campaign? Stop and read a little about Yext reviews before you throw down your hard-earned money.
Chances are you've come across a Yext local listings ad at one point or another if you have built citations for a SEO client or for your own business. Their PowerListings service claims to help local business owners quickly claim citations across their network of partners, helps with duplicate citation listings and allows you to sync up your listings from one central location so it is updated seamlessly across every channel.
If you have ever gone through the mundane and tedious task of finding and claiming citations on your own, the Yext package probably sounds pretty good. Having manually built-out citations for over 100 local clients and having used the Yext paid service for other clients, I have a pretty good grasp on what to expect.
At the end of the day, we want our citations to help us rank locally. So the investment in time or in the cost of Yext has to make sense from a business perspective. This is the approach I take with the following assessment of local SEO and Yext.
Cost or Time? Is Yext Worth the Cost Vs Your Time?
At the time of this writing Yext offers four different citation packages, all with the variables differing in the following areas:
Total amount of citations offered
Add-on services like the ability to publish products and services
Analytic data on profile views
Review monitoring
Yext Prices
At $199, $449, $449 and $999 annually, these services can obviously be a serious investment in your local SEO. Also, keep in mind that annually is the key word here, you have to renew your contract each year whereas manual citation-building keeps your listing up for life in most cases. If you don't renew, the citations on the sites are likely to disappear based on the partnership agreements Yext has with these sites.
That said, do you really want to go through the trouble of manually finding and claiming the 40 or so citations Yext will take care of for you? Given each citation will probably take you about five minutes to claim (some more time, some less), you are looking at 200 minutes of what most people agree is not a fun undertaking.
Still, you have to also consider that the general consensus amongst SEOs is that manual citation building has a more positive effect on your rankings, and this has been my experience as well. I mentioned above I have worked with clients that have paid for the Yext service but have seen no rise in rankings. This can be troublesome when you are spending $499 and expecting your rankings to increase due to the claims Yext makes about their service.
Realizing that it can take two or so months to get your citations to help rankings, you want to make sure that you are getting what you pay for. On that note, you can't simply claim all the citations that Yext has on their index, you have to pay for them. For some business owners who see value in certain directories, this investment may be worthwhile. For others, it really doesn't matter.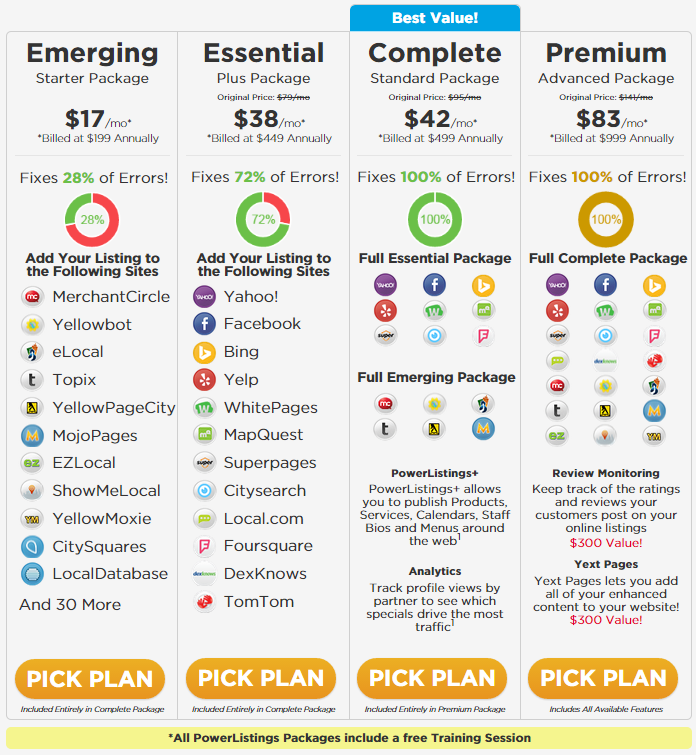 A Word on the Yext Listings Scan
My biggest beef with this free listings scan is that it can be misleading to business owners who don't read between the lines. I can't tell you how many times I've had business owners tell me that the Yext scan provides them data that makes them worry about how they show up on the web. Yext has played into the psychology of consumers and showcases red text "Not standing out" and a bright orange exclamation point with the warning text "Not Verified Through Yext" next to any listing not verified with a paid account.
While I will admit the Yext Listing Tool is a nice way to see how your business shows up across the web, the use of red and orange – colors that are associated with warnings and problems – gives business owners the wrong idea.
Check out this below Yext scan of my business, Digital Elevator. Being a local SEO specialist, you'd imagine I know a thing or two about citations. If I were the average non-SEO business owner, the red and orange would probably make me think that my citations "not standing out" or not being "verified through Yext" was the reason I wasn't ranking. Understanding sales text and psychology, this is a brilliant little strategy that Yext has devised but in my opinion, is more than a little misleading. My business is fully verified through these directories (Yext doesn't say that it's not) but the other Special Offer and Status columns might make one question the quality of my listings.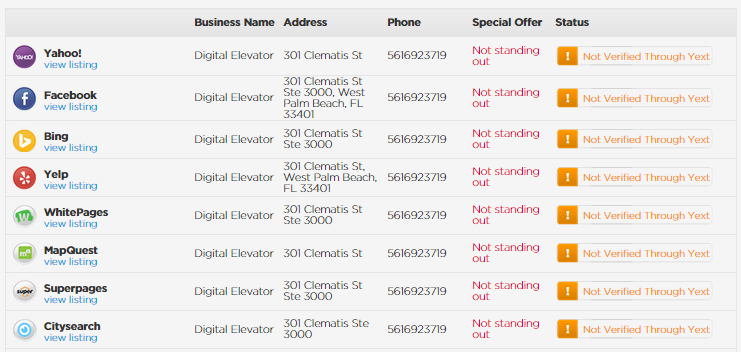 Yext Reviews from 3rd-Party Websites

On third-party review website SiteJabber.com Yext reviews average 3.5 stars, with 150 reviewers providing their unabashed opinions. Looking at the reviews, people either seem to really like Yext or hate it with a passion.
There are nearly half as many 1-star reviews (43) as there are 5-star reviews (90). Some of the first reviews that pop up are also not promising: "Held hostage by their weird business model;" "Golden handcuffs;" They don't even help you;" Money wasted."
Reviews on TrustPilot are similar, coming in at an average of 3-stars. Real reviewers are saying "they waste their investors money;" Scam, they leave you hanging;" "Yext is a total scam."
What Happens When You Cancel Yext?
Citation consistency is one of the main reasons you'd want to sign up for a service like Yext, and citation inconsistency is the number one factor affecting local rankings says Search Engine Land.
This is, in part, why Yext wants to charge you an annual fee to "maintain your citation consistency." But a well-known fact amongst the SEO community is that manually claiming your citations (like so many services will do for you, like ours) practically ensures that they will remain correct for the lifetime of your business.
However, an interesting case study conducted at citation building company WhiteSpark (which is admittedly bias towards manual citations) was conducted to determine what happens when you cancel Yext. Their results were revealing: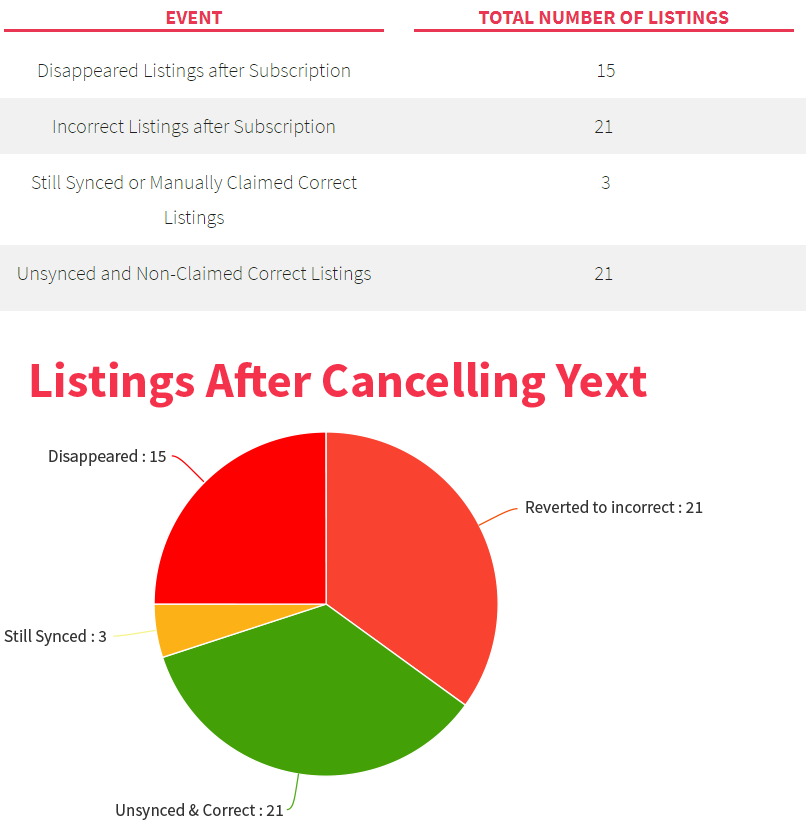 Of the 60 listings included with the Yext active subscription, 21+3 stayed correct, 21 reverted back to an incorrect status, and 15 of them vanished like a fart in the wind. It's no wonder the "Golden Handcuffs" reviewer said that "If you ever want to control your business information that Yext helps publish, you will always have to pay them."
Yext Citations: Which are Free or Premium to Claim Manually?
Of the 50 or so Yext listings that are listed on their free scan, I thought it'd be valuable to SEOs and small business owners to know which ones they can claim for free. I do this not because I am trying to take any credit away from Yext's service, but rather because anyone who has used this page as a reference for claiming citations manually (which I am sure many, many people have done) knows how time-consuming it can be to go through the following process 50 times:
Find the directory company
Look for the "add your business to the directory" section
Use the internal website tool to see if your business is already listed
Claim your existing business and edit or create a new profile and a new listing
Wait for the confirmation email to create account
Submit business only to find they want to charge you after you have gone through all these steps
Here are all the citations from a Yext scan along with links to the sites and an indication of whether they are free or premium. Please be aware that these may change from time to time and I apologize if this list becomes inaccurate. If so, please kindly let me know in the comments and I will update the page.
Yext and Local SEO Conclusion
Personally, I would never recommend to a client that the Yext listing service is a good call. This is based on the fact that one, I have never seen good results from Yext that justify paying for their service and two, manual citation building is the way to go. To Yext's credit, I have never done a side-by-side comparison of one business to another with one using manual citations and one using their service while also managing all others variables. This would almost be impossible and I wonder if anyone has ever taken two nearly identical businesses and conducted this test.
If you are going to use the Yext plan that corrects all your listing errors (why would you not want to correct errors if they exist) then it will run you $499. For the same amount of money, you can go through a citation-building company like Bright Local or Whitespark who currently charge $3 or $4 per citation, respectively. So even at $3 to $4 a citation times the 50 citations you'd get with Yext, you'd still only be paying $150 to $200 for citations that would not need to be renewed the next year. Plus both companies offer volume discounts so you can save more if you have a lot of citations you want/need to build.
For the record, I'm not affiliated with either of these companies but see a lot of value in the services they provide. Citation building is not fun but is very necessary which is why Digital Elevator no longer offers it as a stand-alone service but does provide it with a full-tilt local SEO campaign. We turn to these guys and help small businesses like yours spend your money more wisely on things like ice cream and candy canes.
Still, understanding how citations fit into your overall SEO puzzle is a small piece of the pie. If you are looking for an agency who will handle optimizing your business locally, inlcuding citations, contact Digital Elevator or learn more about our Local SEO services.
What is your experience with manual citation building, Yext or other paid directory services? Please let us know in the comments.