If you are a doctor, dentist, lawyer, baker, mechanic, dry cleaner, or local widget aficionado; AND you know that some local SEO (search engine optimization) will help generate you some leads; local SEO services are right for you.
Your business is local. Your customers are local. Google wants your local customers to find local businesses. Make sense? Good! Local results are important for a number of obvious reasons but also because a well-managed local strategy can help you rank beyond just your tiny portion of the universe. Local SEO has different components than a traditional white hat SEO strategy. This is why a local SEO plan must adhere to the factors that help it stay on top of local results.
Why Local SEO is so Important
Data Point 1: Customers are using search engines most
According to data collected by comScore, search engines are far and away the primary source consumers are using to find local businesses. This is not new news to marketers, but the results of this data may be surprising to those who are on the fence with their investment in local search engine optimization. Digital Elevator's local SEO services are geared at helping your business get a significant piece of these services for your business. Furthermore, our local SEO services also include listings on the second most popular source, "Local search/Internet YP sites."
Data Point 2: Customers who use search engines to find businesses often contact or visit them
Consumers who use search engines to find local businesses have a good chance of stopping in, contacting the business via phone or email, or looking around at other local businesses if they are not convinced that yours is the right one to contact. An additional portion of our service is to place trust signals within your site that help you get the prospective customers to do what you want (i.e. not visit the other guys).
Data Point 3: Consumers trust Local Search Results and Natural Search Results most
In local SEO, the goals of Digital Elevator are to get our clients featured in the Local Search Results area (also known as Google's Map Pack) as well as the Natural Search Results. This comes from a combination of Google Business Page optimization as well as citation building, two services we provide within our local SEO packages.
Our Local SEO Process
Our efforts are based on correlational factors. According to data from reputable SEO software and research company Moz, the main local SEO factors are as follows: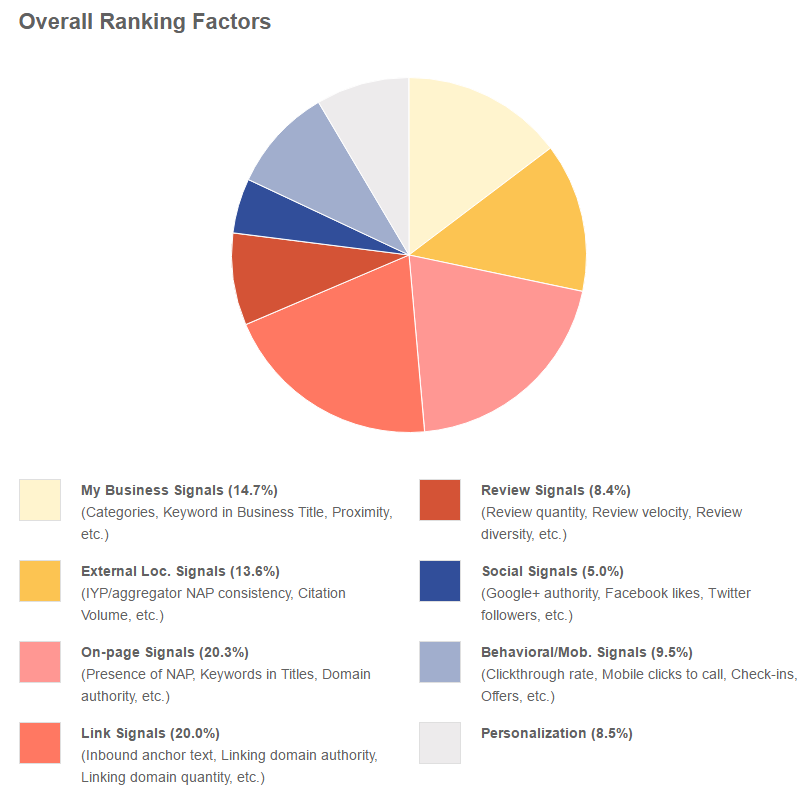 Website Optimization
You can't optimize a local business strategy without a website so we like to start here. Diving into your on-page ranking factors such as title tags, meta descriptions, URLs, headings, footer address and map listing, and phone numbers will play a pivotal role in letting the search engines know where you are located. Your NAP, or name, address and phone number will have to consistently match all of your off-page listing information. Learn more about website optimization.
Website Optimization consists of the following factors from the graph above:
Keyword Research
Many local keywords will contain the word of the city in them. For example "Denver Dentist" or "Palm Beach Traffic Ticket Lawyer." If we knew that more people were searching one particular term over another, this would be valuable information to use while utilizing your keyword data. This is part of our process and plays a pivotal role in getting leads from the various different ways people search. Learn more about keyword research for local businesses.
Keyword Research consists of the following factors from the graph above:
Google Business Optimization
Your Google Business page is a key area in which to concentrate your SEO efforts.  A well optimized Google Places will help to translate more clicks as well as appeal to more mobile users. Our goal is to get your Google business listing to appear in the top spot of the Local Search Results to give your prospective clients the best chance of seeing you.
Google Business Optimization consists of the following factors from the graph above:
Citation Strategy
Citations provide the search engines additional confirmation regarding the details of your business. Some examples of citation sites are Yahoo Locals, Yelp!, Merchant Circle, Hot Frog, City Search and others. Citations are mentions of your business name and address on other sites, even if there is not a link to your site. They have been proven to be a key component of the ranking algorithms of the major search engines. Other factors being equal, businesses with a greater number of citations will probably rank higher than businesses with fewer citations. Learn more about citations.
Citation Strategy consists of the following factors from the graph above:
Review Strategy
In terms of the human approach (as opposed to the search engine approach) reviews are important because they play an important decision making factor when a potential customer decides whether to contact your business or the other guy. In fact, online reviews are second only to personal advice from a friend as the driver of purchase decisions; user reviews are more influential than third-party reviews. In terms of the search engines and local SEO, there is evidence that suggests getting reviews can in fact boost your positioning in the search engine rankings pages.
Review Strategy consists of the following factors from the graph above:
Link Building
As seen in the above graph, Link Signals are the second most important Overall Ranking Factor for local businesses. We work hard to build the best links to your site, from related websites that provide potential high-value referral traffic, to sites that help to improve the overall ranking of your site. Many of the above elements are foundational in nature, while link building is one of those SEO services that requires constant work to help you outrank your competitors.