Content Marketing Case Study: How to Find Low Competition, High Volume Keywords
If keywords are the core of SEO, why is it that so many people still go after the wrong ones?
In order to drive traffic to your website you have to utilize keyword research and content marketing strategies that actually give you a chance of ranking quickly.
In today's post, I want to introduce a content marketing technique that allows you to rank your content with little to no links (links are still one of Google's most highly aspects of ranking). I call this technique "Holy Grail SEO" and I covered it in-depth on a beautiful post featured on Search Engine Journal.
So what is Holy Grail SEO?
In Arthurian literature the Holy Grail is a cup that allows it's owners to have infinite abundance. In SEO, using the Holy Grail technique will give you abundance in the form of boatloads of traffic.
The difference in the Holy Grail SEO technique and the actual Holy Grail is that you don't need to embark on some mystical journey to find it; I'm going to show you how to rock it out right now.
Read on to learn more about how Holy Grail SEO can help you:
Understand how important low competition keywords are to your overall SEO and content marketing strategy
Identify low competition, high volume keyword resources
Utilize keyword competition data to create in-depth, high ranking blogs
The Importance of High Volume, Low Competition Keywords to Your SEO Strategy
Traffic from search engines is an obvious benefit to any website. However, generating that traffic with content that is related to your brand can often prove to be challenging, especially for sites that don't have the luxury of being able to publish content and automatically begin to drive loads of search engine traffic to it (like some big brands can).
Don't get caught up in the "publish and pray" approach so many content generators utilize to create content. Don't just create content for the sake of creating content; be intentional about the content you create as it should provide a return on investment to your business based on the time and resources you put into it.
Whether you are an SEO yourself or doing SEO for your own website, your goal is the same: try to drive (relevant) as much traffic as possible as fast as possible. Because fast traffic is more of a luxury than a reality, we need to implement strategies that help us to satisfy the goals of our clients as well as our own websites. We also want to be able to pull off strategies that allow us to benefit from the search engine traffic that bigger, more established sites generate.
This is especially true for:
Startups
Brand new websites
Websites with little or no domain rating
Brands that are in super competitive industry's
Any combination of the above
Who should go after low competition or high competition keywords?
As alluded earlier, some sites just can't compete for certain keywords or topics and therefore may want to consider not exhausting the resources to go after them. These sites might be better off going after topics that are low competition -- meaning easier to rank for -- while still maintaining some degree of search volume.
So who should go after high competition keywords and why?
When it comes to search engine rankings and correlations, there tend to be a number of important factors that will dictate whether a page will rank or not. To oversimplify what these are (there are over 200 Google ranking factors), here are some of the main factors that may dictate a pages ability to rank:
Topical relevance to search query
Domain rating of the website
Links to the page
In terms of topical relevance, we can all go after any topic that we want and publish pages on them. This, of course, does not mean we will rank for them mostly based on the other two factors mentioned above.
Domain rating, a proprietary Ahrefs' metric that shows the strength of a target website's total backlink profile, can provide a major headstart for brands attempting to rank for certain topics. The metric is measured logarithmically from 0-100 to showcase, essentially, how popular a site is. Forbes.com for example, has a domain rating of 93.
This is why a site like Forbes can virtually publish an article on any topic and rank for it. However, smaller sites -- or those with smaller domain ratings -- may have to work harder at the next metric to get more attention from Google (i.e. rank better).
Links to a page is the other metric that influences how well a page can rank. Often, a page with more links will outrank a page with less links. Sometimes the page with a higher domain rating and less links will still outrank the page that is on a site with a lower domain rating. There is no exact rule for this, this is purely based on correlation.
Anyhow, you need to keep this in mind as a content creator because you should obviously be creating content with the intent of getting as many eyeballs on it as possible. The Holy Grail approach, however, accomplishes this goal by allowing you to be strategic in what topics you target, or put another way, topics you don't.
Below I will detail how to use data to understand what topics you can potentially rank for easily and how to find them.
Using the Holy Grail SEO Technique to Find High Volume, Low Competition Keywords
Before diving into how to find high volume, low competition keywords we must first understand that the definition of "high volume" is subjective. For example, in some industries a high volume topic may be 500 searches a month, while in others a high volume topic may be 50,000. Either way, you must keep in mind long-tail traffic, which is why we will discuss how to create complete topics that rank for boatloads of keywords.
Method 1: Using Google SERPs to Reverse Engineer Results
When you want to cover a specific topic this is probably one of the best approaches to take. The second approach also allows you to target specific topics, while the third approach involves stealing topics from your competitors.
Starting with the Google search engine results pages (SERPs) to reverse engineer results is a good foray into one of the three options for finding high volume, low competition topics. Here is a case study from one of our financial planning clients, Castle Wealth Management, where we used this approach to great success.
Castle Wealth wanted to cover a blog post on trusts as many of their clients are high net worth. While we like to tackle topics that our clients want, our job as an SEO and content marketing agency is to have conversations with our clients about how to be intentional about the topics we cover. Plus, we knew a topic in the finance industry would put us up against sites like are likely to dominate the space such as Kiplinger (DR 84), Nerd Wallet (DR 86), and Forbes (DR 93).
Here's how we, and you, can tackle this type of keyword research and determine if a topic is worth going after.
You'll need some software to make this kind of advanced prospecting happen, and in this case, I use Ahrefs. More specifically, I use their Chrome extension for its data on Domain Rating, Referring Domains, and the Keywords a page ranks for. It's cool because you can get data directly in the SERPs without having to visit a site or run it through the software.
Anyhow, with the software in place and the topic of trusts to evaluate, we start with some initial searches on generic queries such as "What is a trust."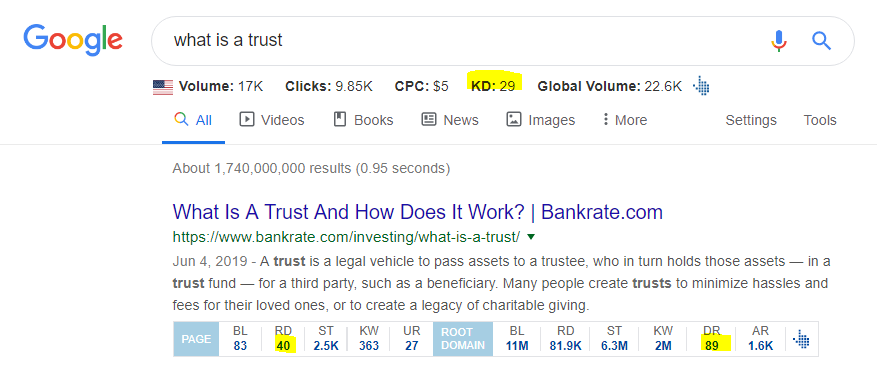 As you can see above (and as highlighted), the top result for the topic has a high Keyword Difficulty (29), has a bunch of links (Referring Domains (RD)), and is on a site with a massive Domain Rating (DR) of 89. As you may expect, a topic like this gets a lot of searches per month, 17,000 (indicated by "Volume").
Because our goal is to be able to realistically rank within the top three search results, we decided to stay away from this topic.
Eventually, we found that the search for "Why would you put your house in a trust" was a really great candidate.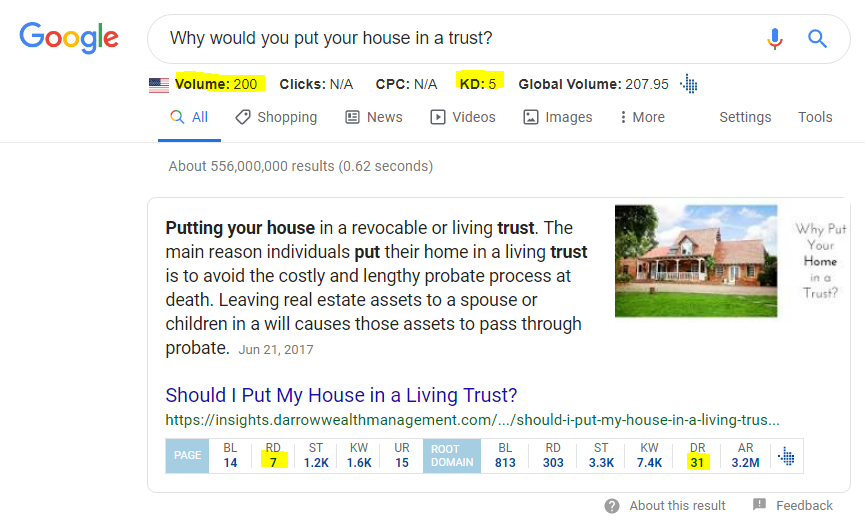 The number one ranking site had these factors that make the topic ideal for our client to go after:
The site has a DR of 31 (not much higher than what our client was at)
The post only had seven Referring Domains
The topic only had a Keyword Difficulty of 5 out of 100
The topic had a search volume of 200
While the search volume of 200 is not particularly high, something we picked up on was the total amount of keywords this post ranked for, over 1,600 (as indicated by the "KW" on the page level).
These signs all looked pretty good, but we wanted to look closer at all the potential long-tail traffic (in Ahrefs) before committing: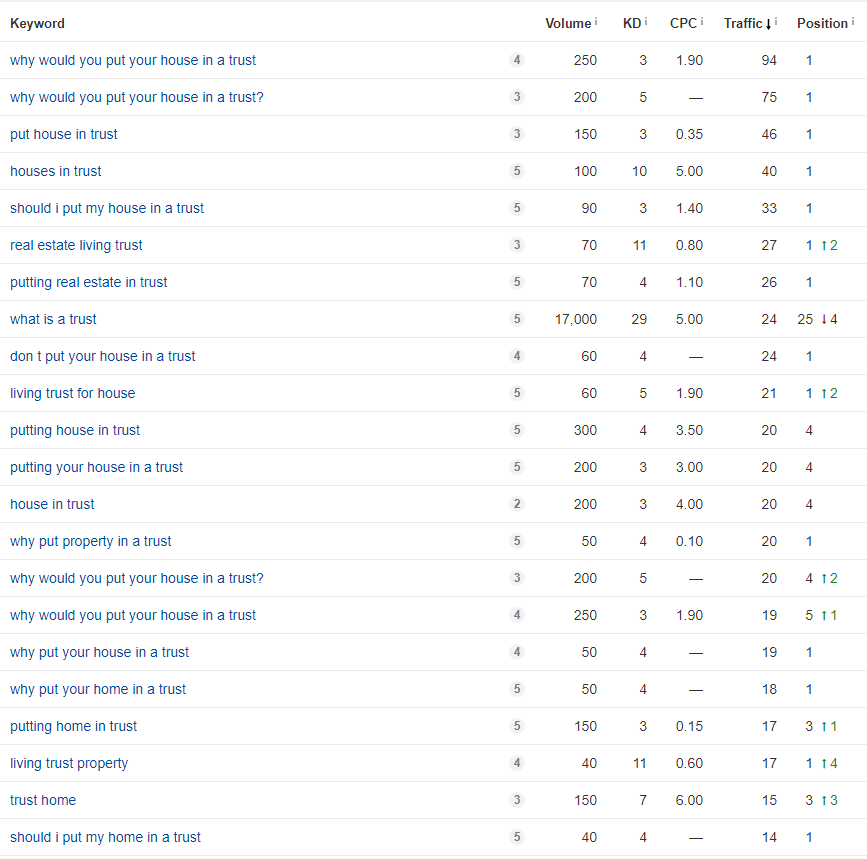 As the Darrow Wealth Management site ranked really well for loads of keywords that were related to trusts and many with really low Keyword Difficulty, we knew this was a win.
To summarize why this was a good topic to emulate:
It was related to our clients offerings -- they provide financial advice on setting up trusts
The topic had a lot of long-tail traffic potential
The sub-topics and related keywords to the topic were all relatively low Keyword Difficulty
The top-ranking spot did not have a lot of links and was not a site with a really high Domain Rating
So, what are the next steps? Write a bigger, badder blog post!
Let's teleport about 3-months after we published the blog for Castle Wealth Management and see how we started to compete: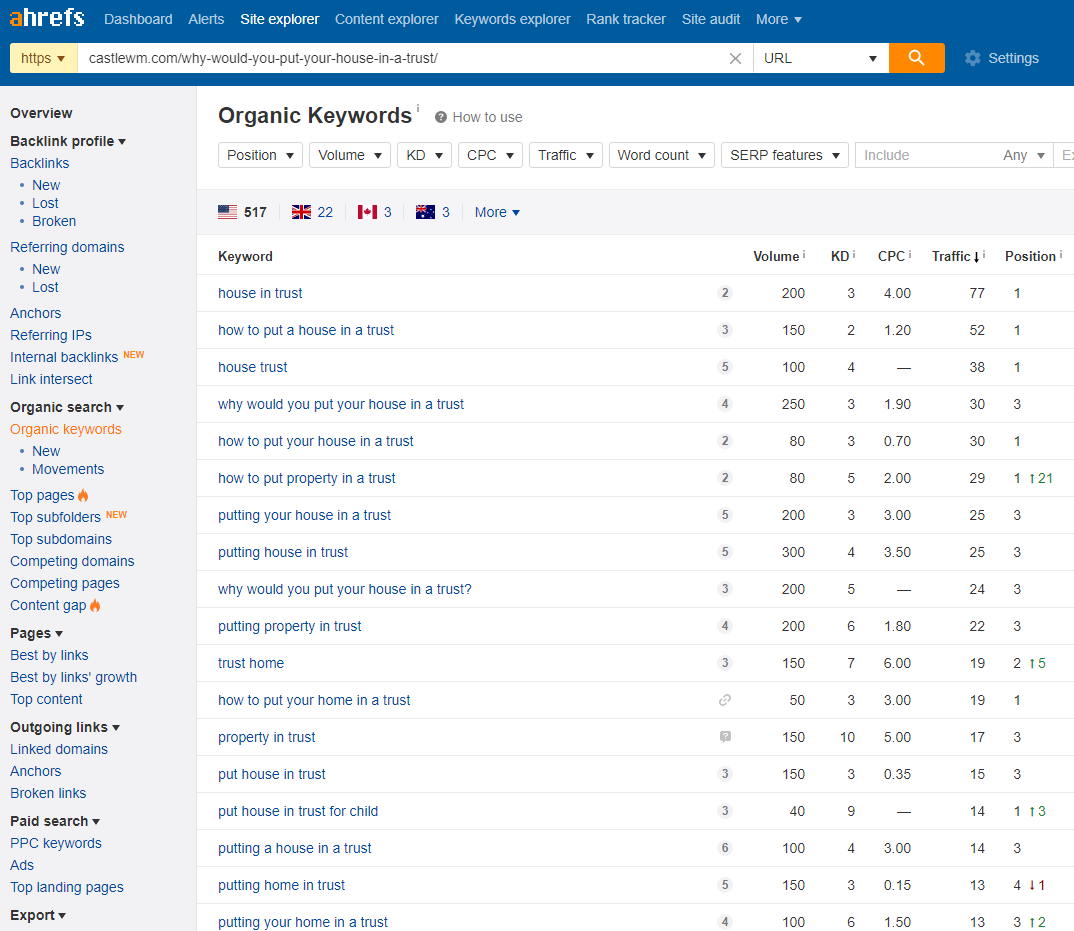 As you can see, the page ranks really well for a large amount of long-tail keywords. What's more, we only built one backlink to the page and have now benefited from high rankings for nearly 500 keywords.
Take a look at the Google Analytics traffic to see how this post for Castle Wealth continually grew:

And just to provide some silence to the negative Nancy's out there who think this strategy only works because the target competitor (Darrow Wealth Management) had a modest Domain Rating, check out all the other sites we outrank that are way bigger in DR than Castle Wealth: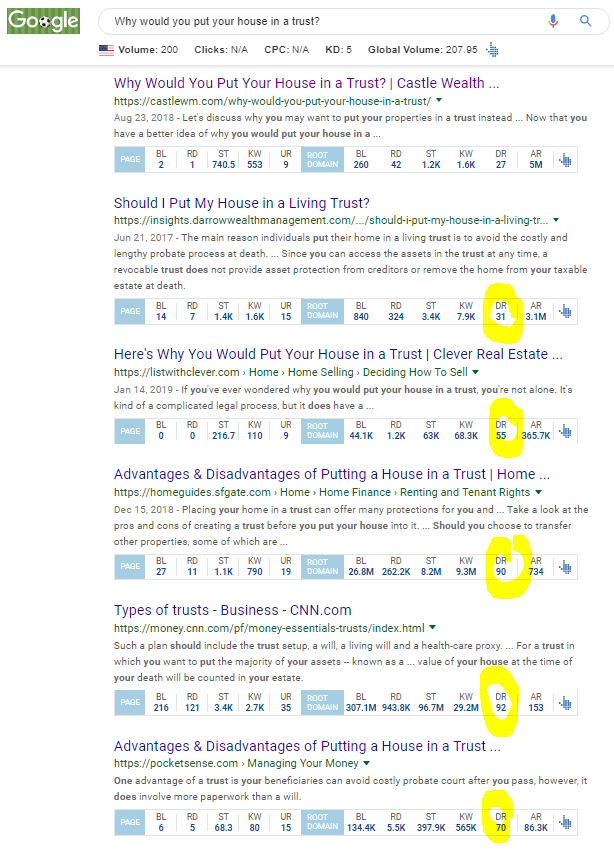 This is just one strategy to use when you have topics in mind. In addition to doing research from the Google SERPs, you can go straight to Ahrefs to do the work for you.
Method 2: Using Keyword Software to Target Specific Topics
Another excellent way to find that low hanging fruit content is to use the Ahrefs Content explorer tool. This too allows you to search by topic but offers some additional filters that make it a joy to use.
For this example, we decided to write about the topic "garment bag."
Start by throwing your topic into the Content explorer:

For generic topics like this, you'll likely see something like the below -- a result with 1,000's of pages in the index that you'll want to filter down.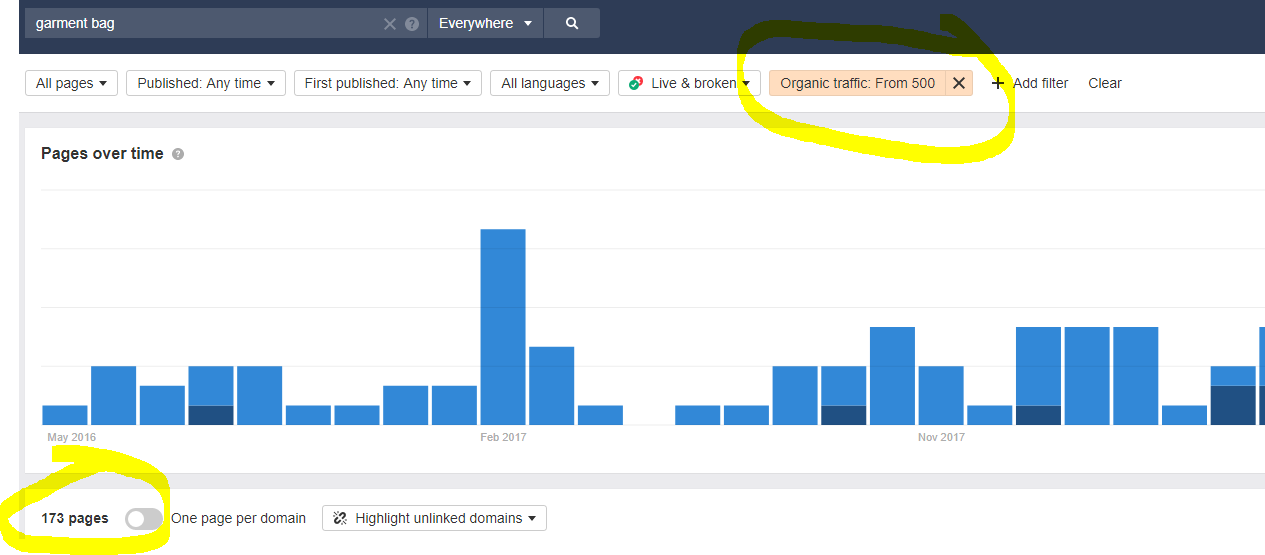 There are a lot of filters that can be utilized and it's actually quite fun to play around with the tool to generate results, but there are some rules to live by to start finding topics with a lot of keyword traffic.
As you can see above, I set the organic filter to "From:500" to see pages that rank for 500 or more keywords. You can get more aggressive if you have a lot of results to shift through, and vice versa.
In this scenario, filtering out pages without at least 500 ranking keywords left us with 173 pages. Because that is still a lot of pages to review, I can apply more filters to determine if there are better options. Thus, I set an additional filter for a DR above 30. Filtering out sites with a higher DR shows results that apply to smaller sites I can likely compete with easily with good content alone.
This is not a hard and fast rule however; just because a page that lives on a site with high DR ranks well, does not mean it won't have low competition, high volume topics. In this case, however, there are a lot of results so we have more play in what we can filter out.
Now, with filters set to organic traffic above 500 keywords and sites with a DR below 30, we now have 10 pages to review based on the "garment bag" topic: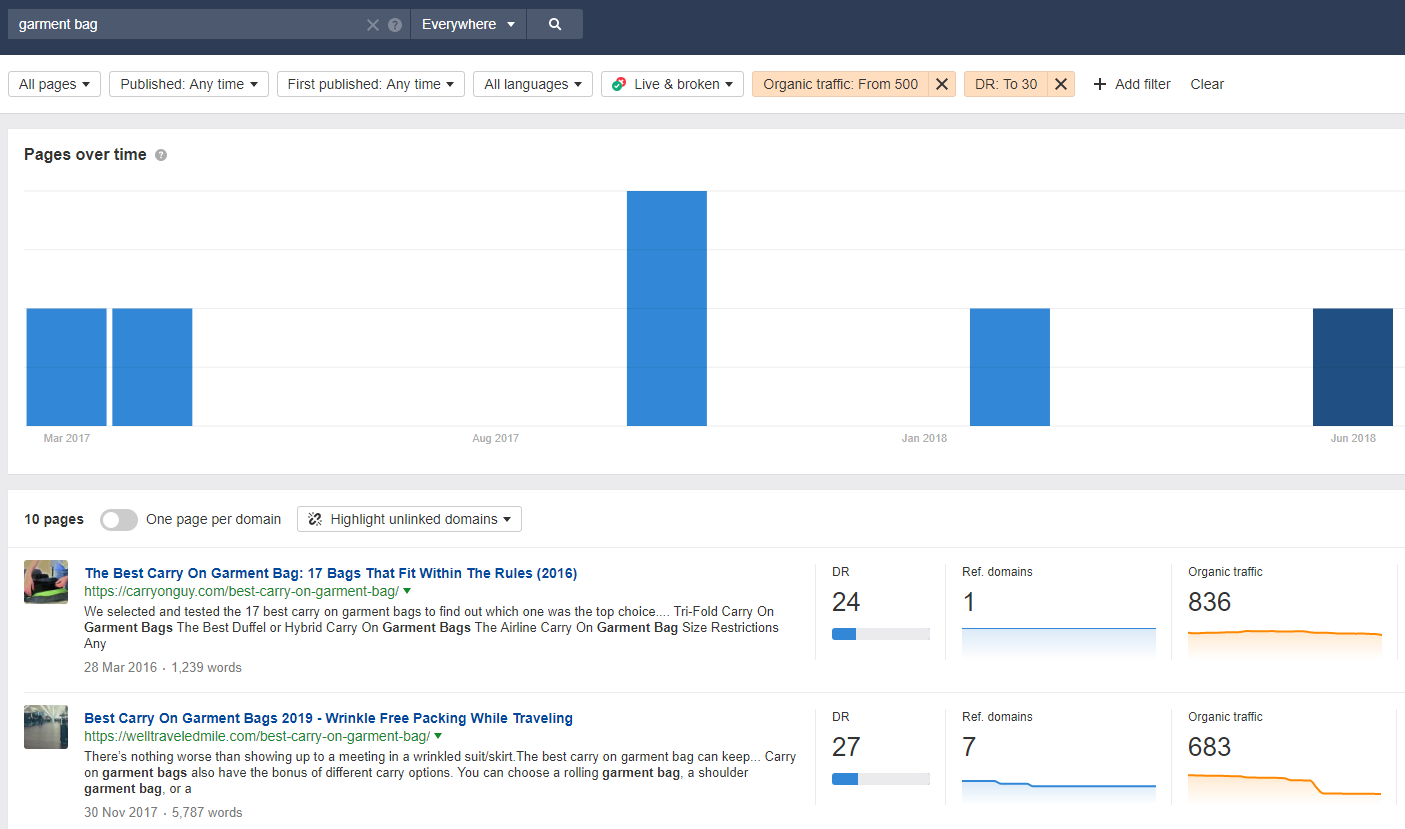 The next thing to do is open up the Organic keywords tab on each site to see if there are low competition, high volume keywords that are Holy Grail material.
Boom! And just like that we have our first candidate meets our criteria for Holy Grail SEO:
First off, this page has about 1,200 keywords it ranks for
The page itself only has one referring domain
The volume behind a bunch of the searches compared to the KD is great. Lots of long-tail keywords to consider in our blog post that we'd likely rank for easily.
Now, I can repeat the same process with the other sites in the filtered list to document the keywords my writers should cover in the blog post.
I really like this approach, but my favorite way to find Holy Grail opportunities is analyzing competitors sites and stealing their high volume, low competition topics.
Method 3: Looking at Competitors to Find HV/LCK Keywords
So far we've looked at two ways to use topical analysis to find blogs. But what do you do if you don't have a particular topic in mind or can't seem to find anything that you like using the other approach?
You mine competitors' sites, find their best content, and rewrite it.
Let's check out another example in the financial industries space, an industry that is extremely competitive and full of great content everywhere you look.
To start, you'll simply want to visit a popular site that is in the same niche as your site. For this example, I referenced NerdWallet because they are really popular in the space and rank well for a lot of topics.
Grab the NerdWallet domain and plug it into the Ahrefs Site explorer to begin the process.

Because this site is a behemoth, it is going to rank for a ton of different keywords so we want to filter down our results. First, I'm going to click on "Top pages" -- pages Ahrefs is telling me ranks for a ton of keywords -- and set the Keyword Difficulty filter down to 10 (although you can get more aggressive and go lower to see how many results you get).
With our Top pages and KD 10 or below filter in place, we immediately see some really good candidates such as "how to fill out a money order" and "best time to buy a tv" as potential options to cover. Of course, you want to make sure any option you choose to cover is relevant to the audience of your site.
To dive a little deeper, I can open an Organic keyword report for the pages I want to investigate and reference the Volume and Keyword Difficulty. Here's the report for the "how to fill out a money order" post: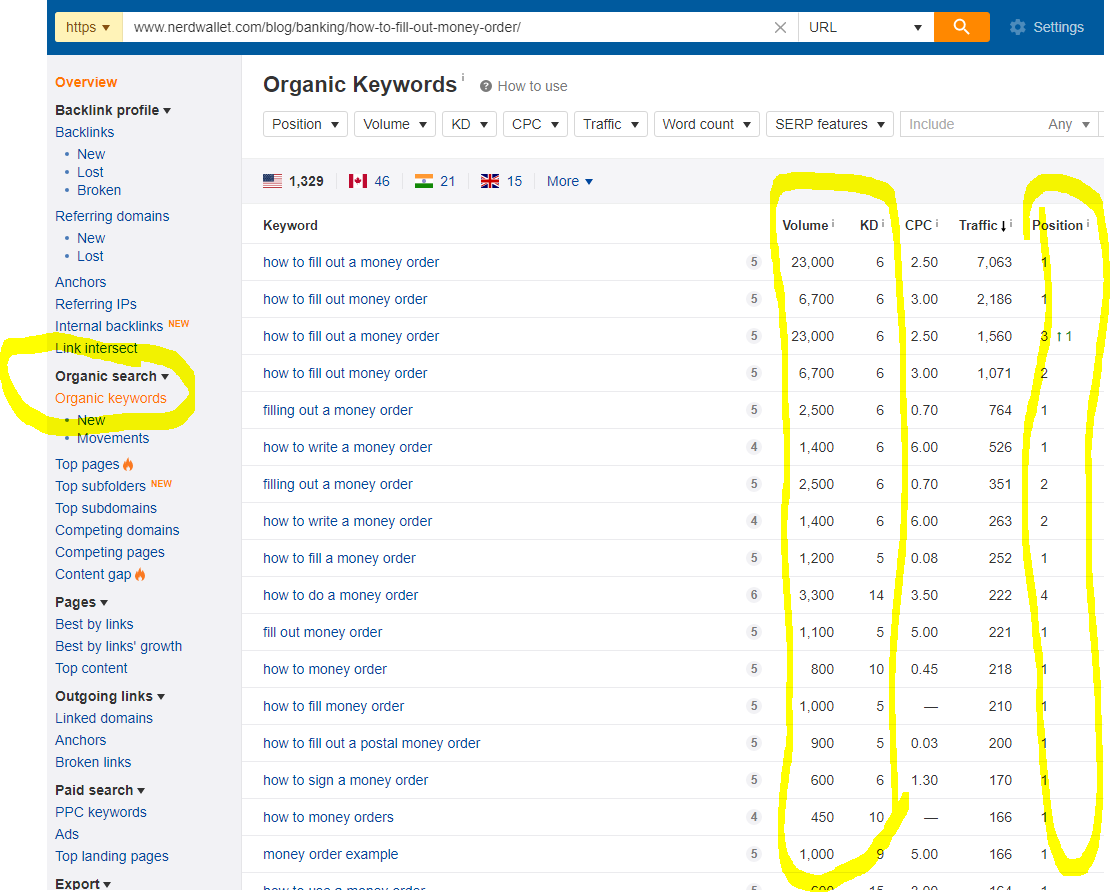 I can see this post ranks for a lot of high volume, low competition keywords making it a solid candidate for a similar post on my (or my clients') site.
I can even take the main keyword a step further to see how many links I might need to build to rank for it on the first page. "How to fill out a money order' gets 23,000 searches per month and is a KD 6! According to Ahrefs, I'll need about seven links to rank on the first page.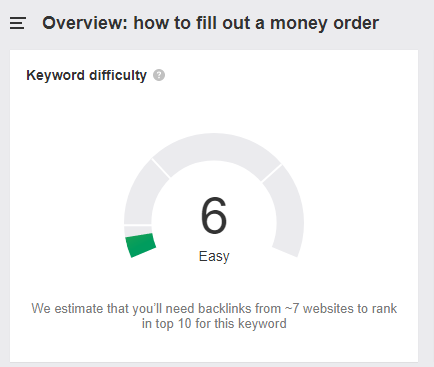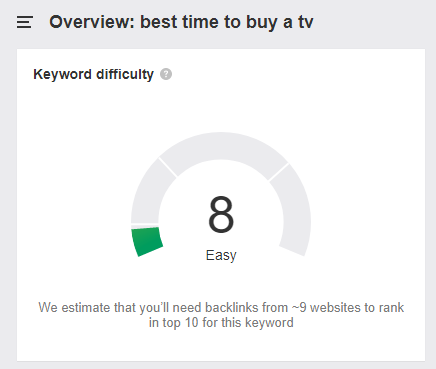 Utilize Keyword Competition Data to Create In-depth, High Ranking Blogs
Now, if there is something that needs to be mentioned it's the fact that you can't simply publish any old blog and expect it to rank. In other words, you've only done some of the hard work required to give yourself the best chance of ranking. The next part is actually writing the blog you want to rank.
Great keyword research needs great writing!
While this is not a post on how to write a good blog, it is integral that you carry out good copywriting to give yourself the best chance of ranking. Here are a few resources that may help you with that:
In addition to good writing, I want to emphasize the importance of being truly exhaustive with the topics you cover. This means doing a competitive analysis of the other pages that rank for your target keyword and making something more in-depth and ultimately better.
A great way to do this is with the inclusion of keyword rich subtopics. The good news for you is that these should already be revealed when you did your initial topic research.
For example, let's review the keyword data from the "garment bags" research to see if we can pull some sub-topics.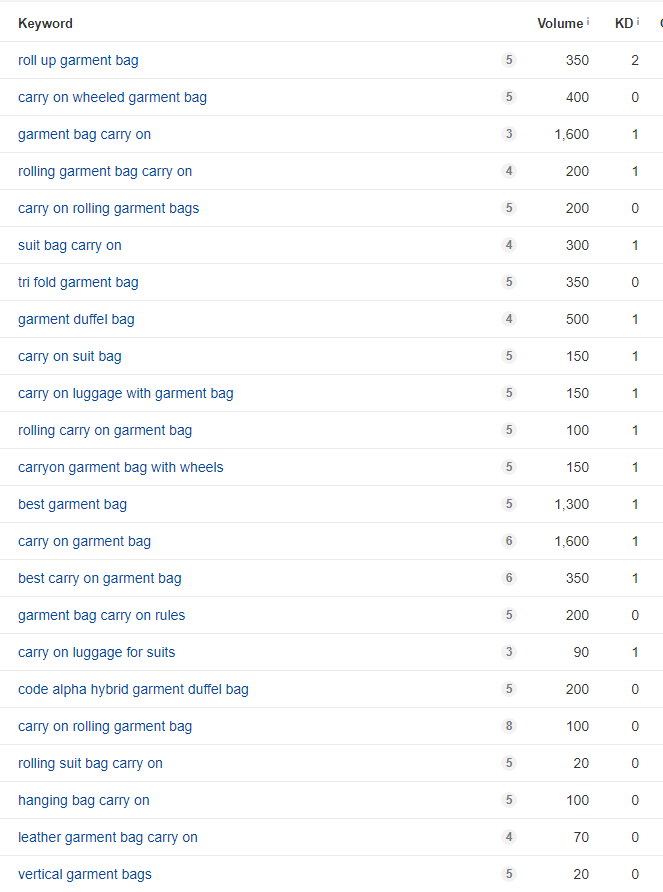 Ok, great.
We have a bunch of good data on volume and KD but is this alone going to make your blog rock? No, it needs a little logical thinking to ensure the post has good talking points while also being intentional about the keyword opportunities.
Let's go with a topic for our post that is general but seems to cover the keyword opportunities we found. Something like "17 Best Garment Bags of 2019."
Now, let's take your keyword data and make something of an outline for the post that flows logically and still leverages the keyword data intelligently.
Best roll up garment bags
Best carry on garment bags
Best garment bags with wheels
Garment bag carry on rules
When to get a tri fold garment bag
As you can see, my keyword research has dictated my subtopics. If you think about it, it really should as volume has everything to do with interest in a topic. Thus, it makes sense to cover high volume subtopics.
Another great area to pull additional sub-topics (leaning more on the logical side) is within the Google SERPs. Check out the "People also ask" section as well as the "Searches related to" sections for inspiration: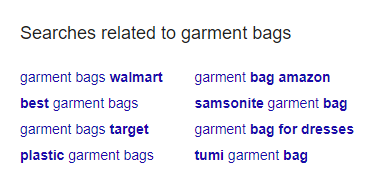 Embark on Your Quest for Holy Grail SEO Today!
Holy Grail SEO is something that will work for every kind of site, big or small, high DR or low DR, and those with lots of human resources at their disposal and those without.
The research portion gets easier the more you do it and can actually become second nature once you get the hang of it. And while we never rule out content promotion or link building as additional was to drive traffic and exposure, it's nice to know you can lean on Holy Grail SEO without having to dedicate a bunch of resources to social promotion or link building.
Try Holy Grail SEO yourself and enjoy the abundance it brings your website!