Surf Through Our Portfolio
The design team at Digital Elevator has worked with big name corporations as well as local shops around the country. Our designs reflect the professional identity that our clients want to establish. We have created logos, graphics, websites, microsites, infographics and more to help our clients reach their branding goals.
Here are a few of our recent website projects.
Mobile Friendly Design: Fitness Mentors
Digital Elevator worked with the Fitness Mentor's team to design, develop, and deploy a cross-platform website that introduced Fitness Mentors' state-of-the-art personal training certification platform. Fitness Mentors, with Digital Elevator's help, is now one of the top personal trainer resources in the world. Our strategy was to keep it simple by creating easy to use navigations, strong calls-to-action, as well as detailed SEO strategies.
Fitness Mentors is an e-commerce website where people can purchase personal training courses to aid in certification. Most buyers who visit Fitness Mentor's website are there to do one of two things: search for specific training material, or take the coursework they've purchased.
The mobile website caters to both types of visitors from the very beginning. When you first go to their mobile website, you're greeted with free resources, study guides, testimonials and much more. In light of Google's recommendations, we designed this site for users, not search engines.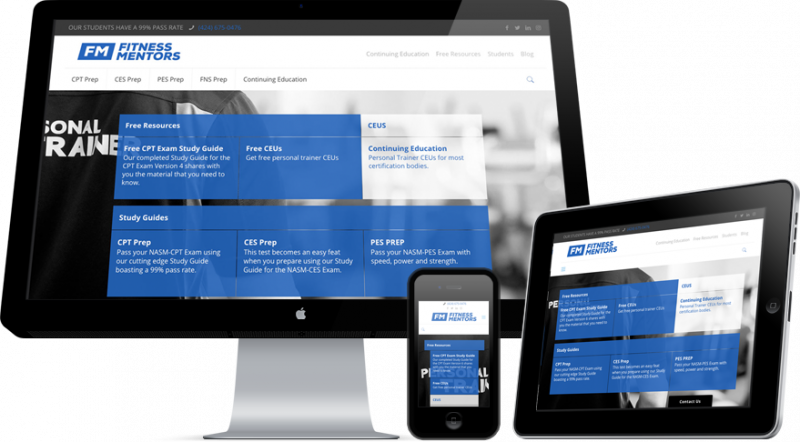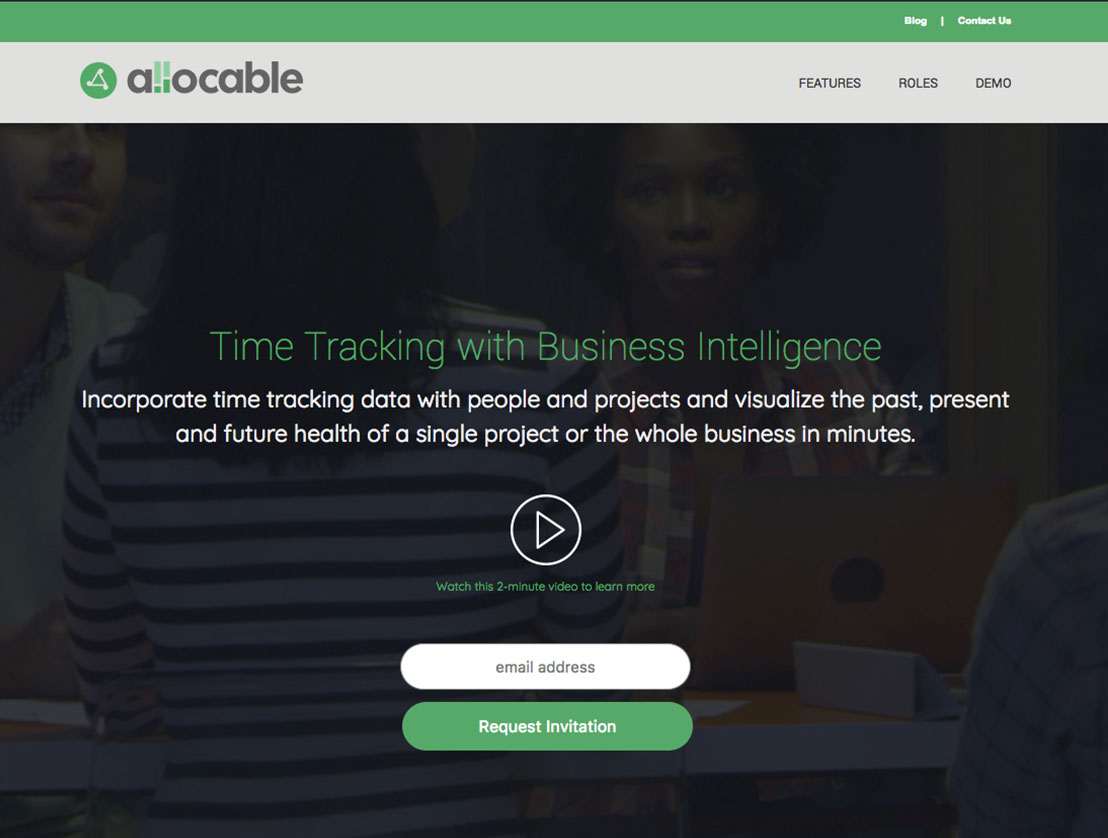 Calls-to-Action: Allocable.com
The call-to-action (CTA) is a key element on a webpage, acting as a signpost that lets the user know exactly what to do next. Without a clear CTA, the user may be unclear as to the next steps to take to purchase a product or sign up for a newsletter, and is likely to leave the site without accomplishing your goal.
A CTA makes it clear which action to take next and helps remove friction in moving the user down the sales funnel. There can also be multiple calls-to-action on a page if there are multiple desired actions for the user to take.
Our client, Allocable, was bringing a new, vital SaaS to the market and they needed to share valuable information to their prospects through an informative video. We were commissioned to create an emotional readiness for prospects to engage.
We developed an initial video CTA to help familiarize visitors with the software, understanding visitors are more apt to watch a video than read through content. Next, we created a strong CTA of: 'Request Invite,' as an offer that promotes exclusivity to their software. Allocable, with our guidance, has month-over-month increased their lead generation and continues to build generate interest in the product right when it matters most: in the first few seconds.
Brand Consistency: Castle Wealth
If your company has a logo that is utilized frequently in print materials (i.e. business cards, pamphlets, letterheads, etc.), then the logo, logo/brand colors, brand messaging and imagery used for print should be carried over into the website design. It is important for your customers to be able to recognize your brand in all forms of communication so they associate your brand position and promise with your business. Often, when the visual communication changes with a brand, it can cause customers to feel uncomfortable, which can cause them to create a negative association with your company.
Digital Elevator's development team are designers and branding experts first. Each developer has a unique background, bringing marketing, graphic design, and an eye for user experience to the development table. We pride ourselves on taking your brand, matching it, and making your online presence synchronized with your offline.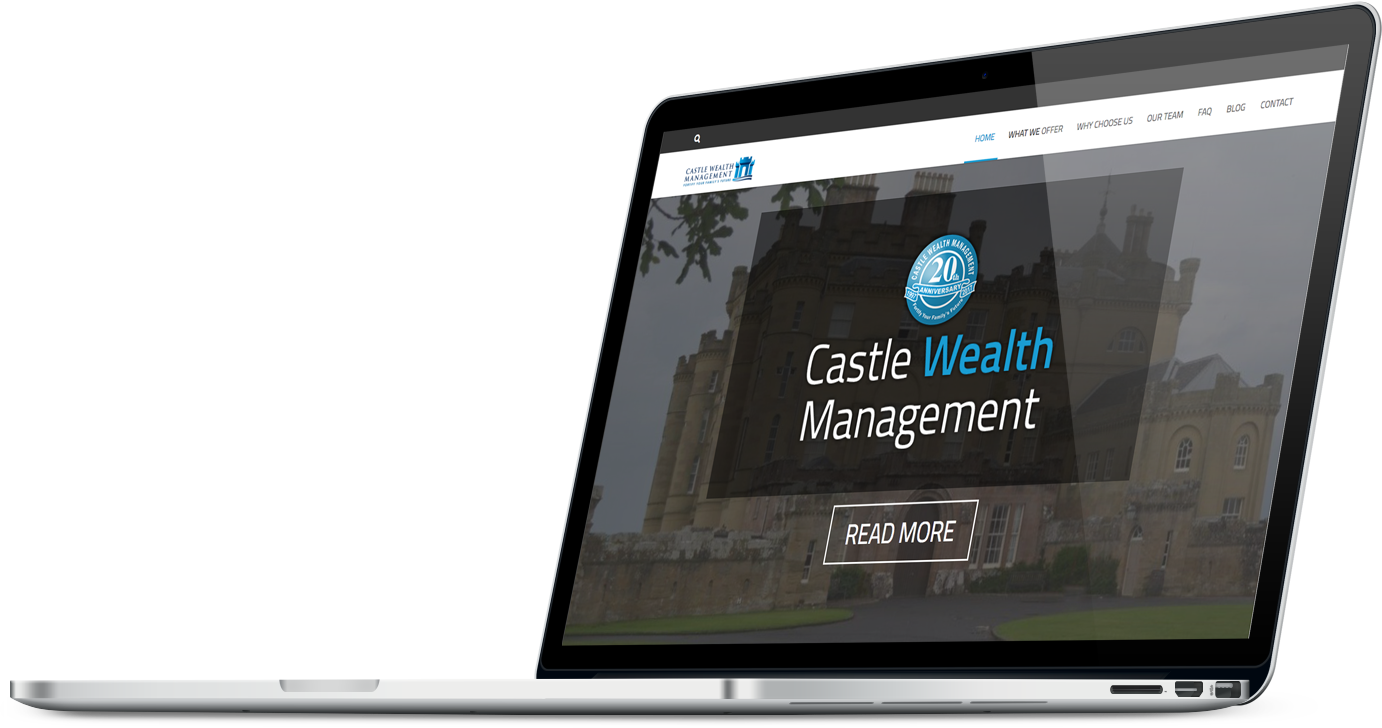 From Concept: Area9 Learning
We approach each project as a true collaboration in ideation — the process of creating new ideas. We offer our expertise and guidance whenever needed to ensure that the entire process is as smooth and enjoyable as possible. Digital Elevator's commitment to quality is with you from concept through to post-implementation so you can sleep well both during, and after, the development process.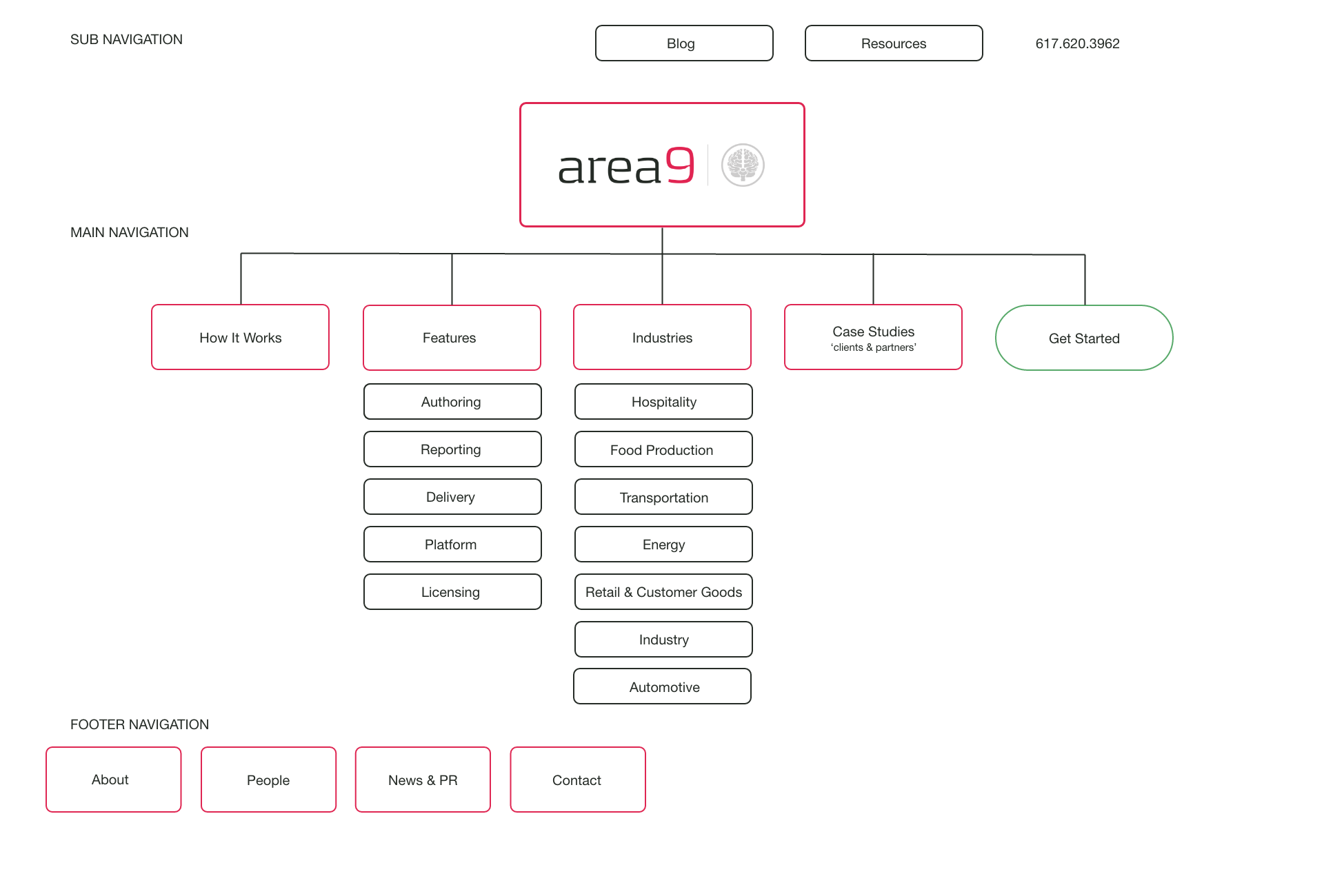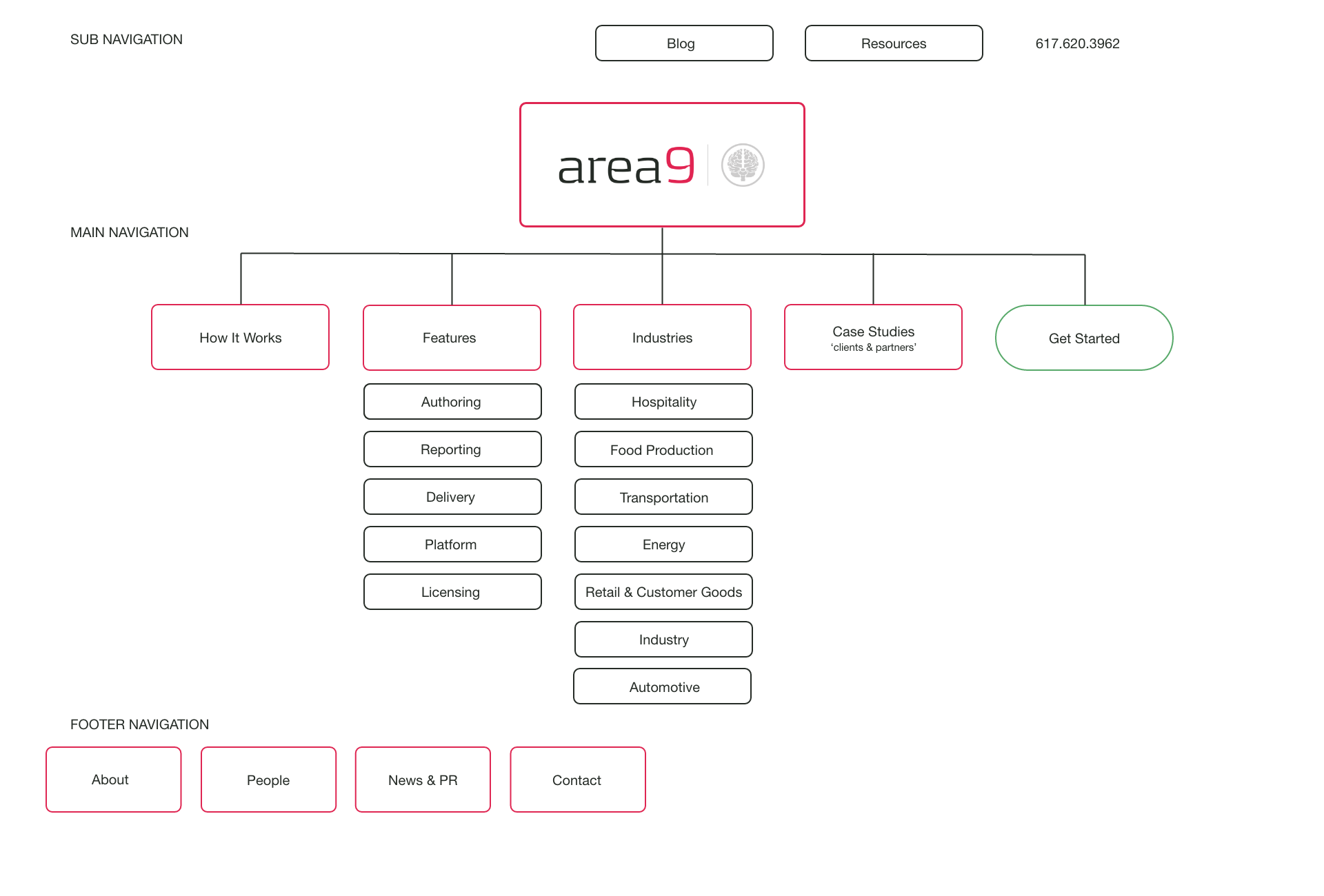 Digital Elevator's goal is to make sure we document the necessary details to make a project functionally accurate in the wireframes we produce. However, it can be difficult to focus people on function instead of design. As such, we focus on producing wireframes that are quick to build and look good, but that aren't over designed, so we can keep our audience focused on the functional specification. This process enables us to get feedback early on in the project by doing quick wireframes. One benefit of this wireframing process is that it helps set client expectations early in the process. The process also creates a detailed blueprint of how the system should behave to guide our programmers.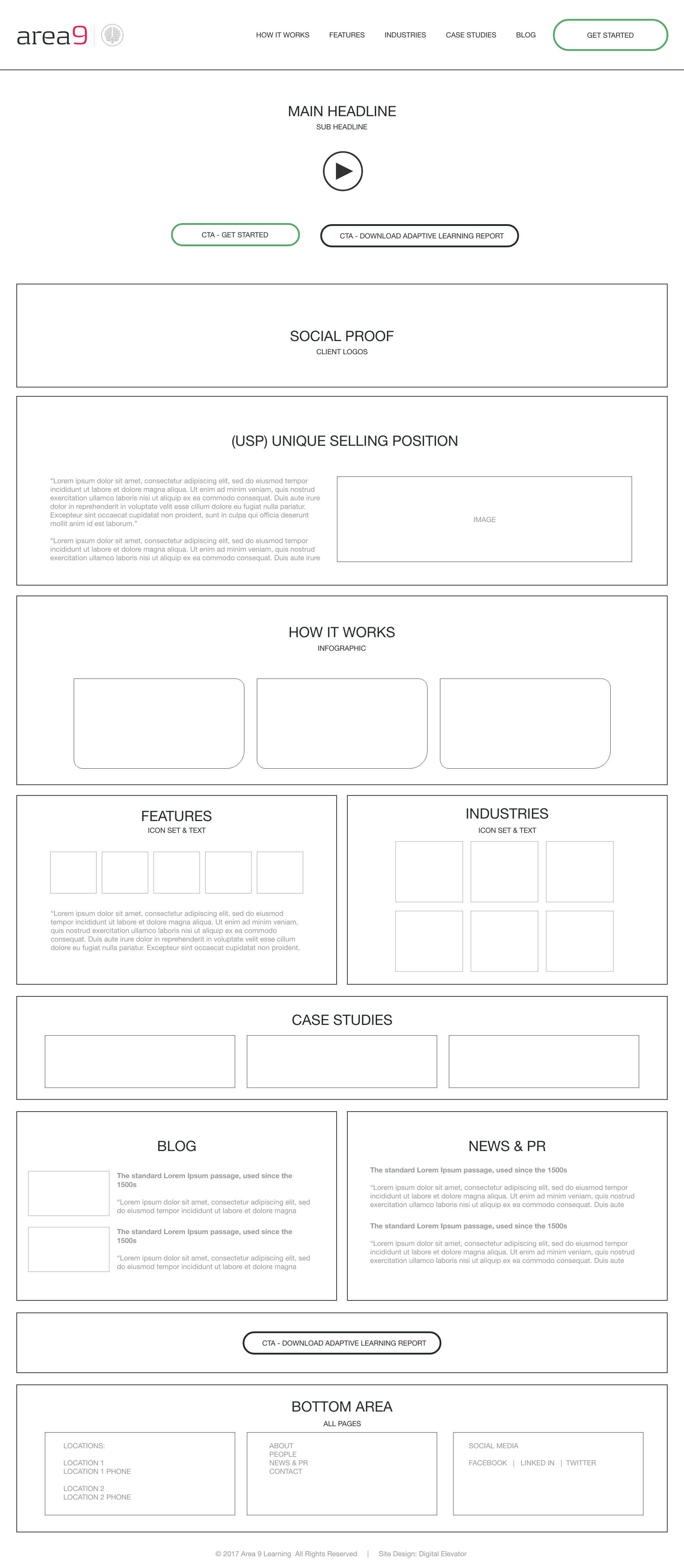 To Fulfillment: Area9Learning.com
And finally, we test the Internet-based systems we develop for browser compatibility, HTML syntax and CSS validation, and functional operation and accuracy. Each of these different test areas enable Digital Elevator to ensure that the systems we develop are bug-free, meet client expectations and fulfill end users' functional and aesthetic needs.

Special Projects – Logo Design
Your logo is one of the most important part of a company's brand identity. With its use on every advertising and branding material, a logo is something your customers are going to remember you by.  If you are looking to make a great first impression let the design team at Digital Elevator help you create or revamp your logo.


Special Projects – Landing Pages
We create landing pages for nearly all of our clients' projects to help drive visitors down sales funnels. Landing pages are often associated with pay-per-click ads but can also correspond to any page on your website where you want the visitor to take some sort of action.
In the examples below, you'll see some landing page projects that involved lead capture for whitepapers as well as a Local SEO landing page intended to help our client rank for a search related to a major Google My Business category.
Our Strategy
DuvaSawko
---
Our client DuvaSawko is in the medical coding and billing industry and targets emergency medicine practices for their services. As they service a very specific niche, creating value-added landing pages that help to explain the benefit of downloading their content is of upmost importance.
In the case of this campaign, we provided DuvaSawko fully automated services to accompany the landing page. First, we created a whitepaper based on a popular topic in their industry. Next, we setup an email nurture campaign that would be triggered via their CRM once the whitepaper was downloaded. Then, we created the landing page and connected to the whitepaper and CRM so that each download triggers an email campaign that helps move prospects down a well-defined channel.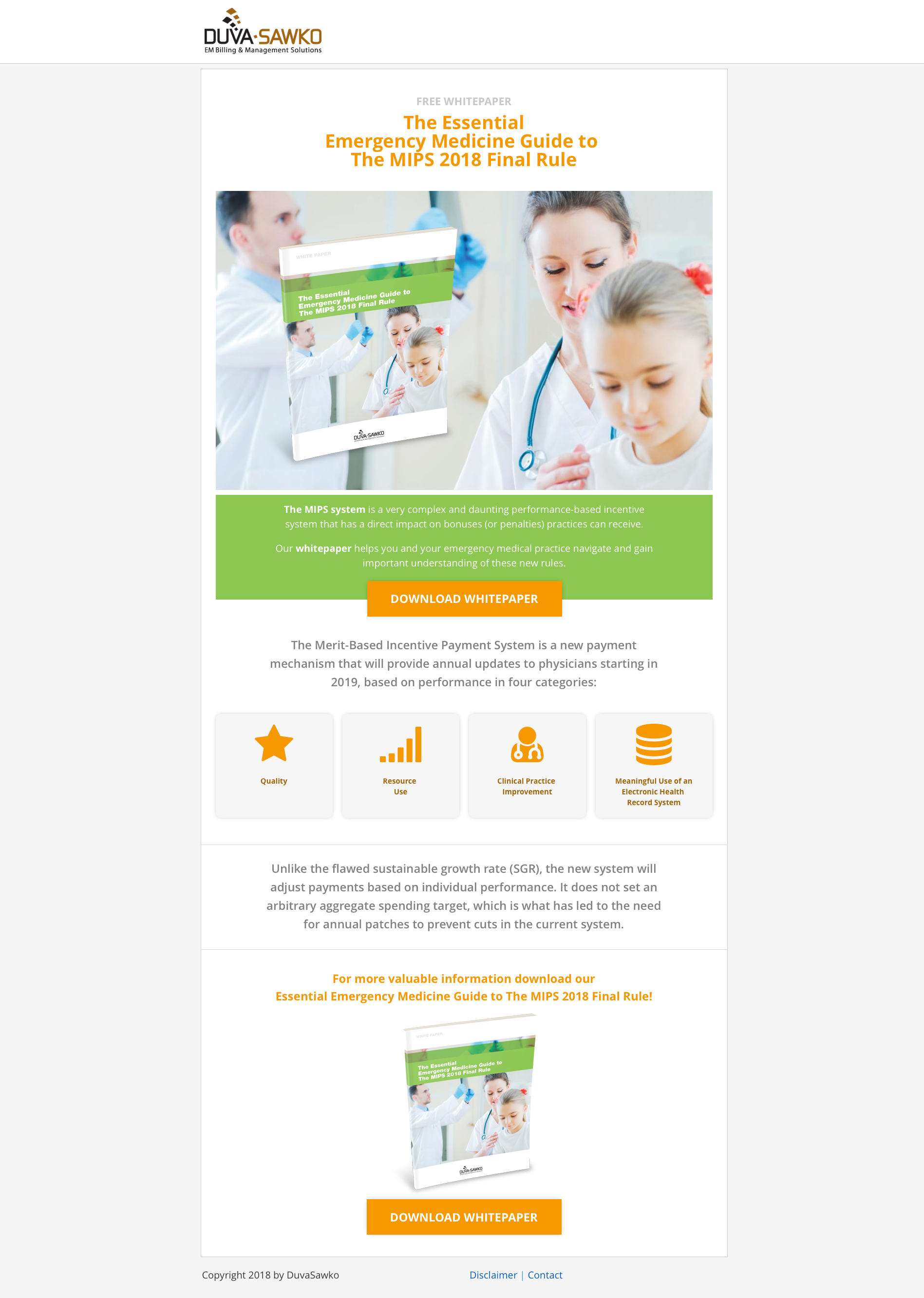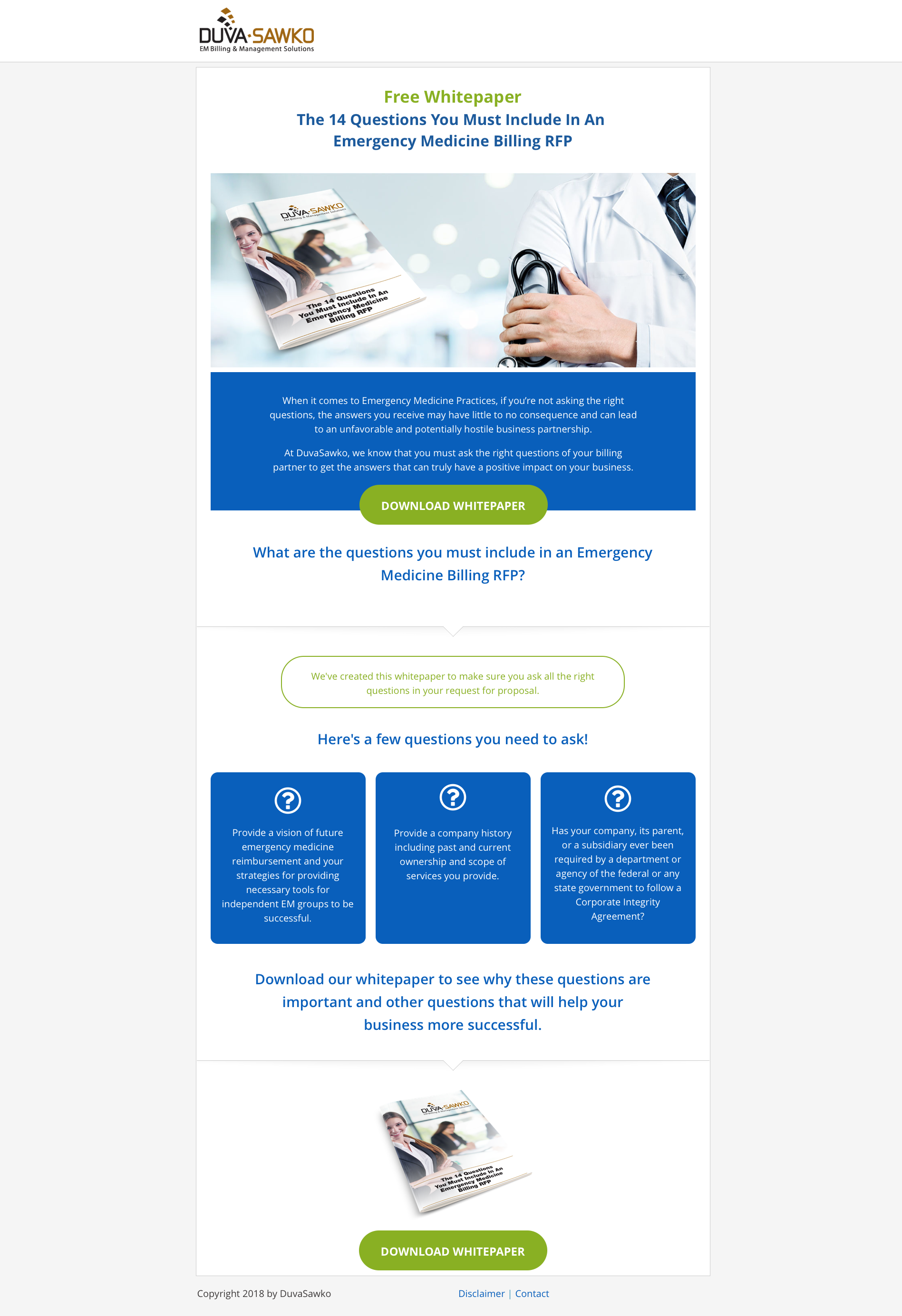 Our Strategy
GC Flooring Pros
---
GC Flooring Pros is a supplier and installer of high-end flooring products in the Frisco, TX area. They were having some challenges ranking in the Google map pack, as well as organically, so we created a multi-location Local SEO campaign that involved the creation of two local SEO service pages for each of their brick-and-mortars.
The pages were optimized for the cities where their offices are located, and a new Google My Business, as well as citation campaign, was rolled out to help them rank. The result (which you can see in the other image), was #1 ranking for their preferred keyword in the map pack.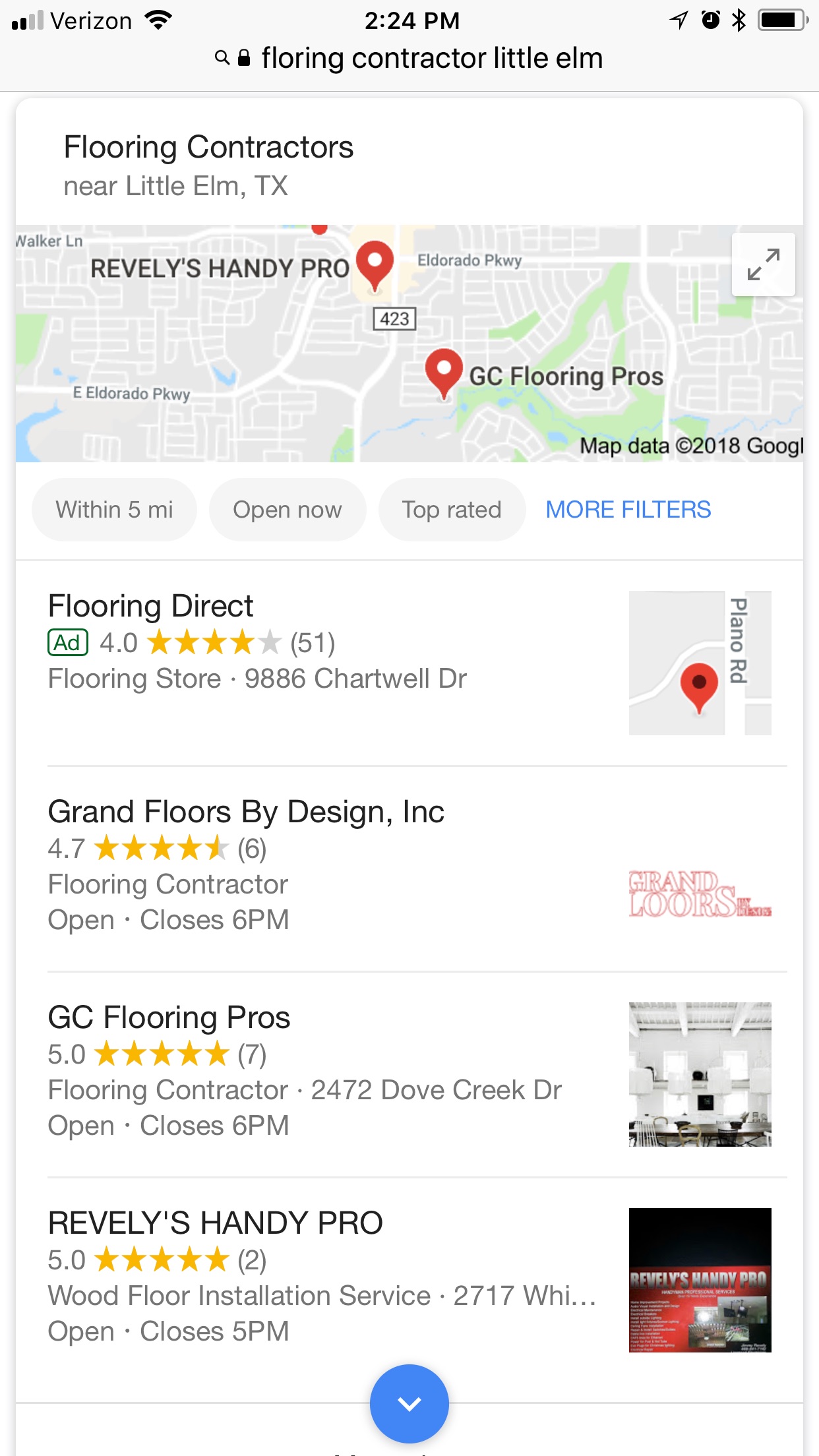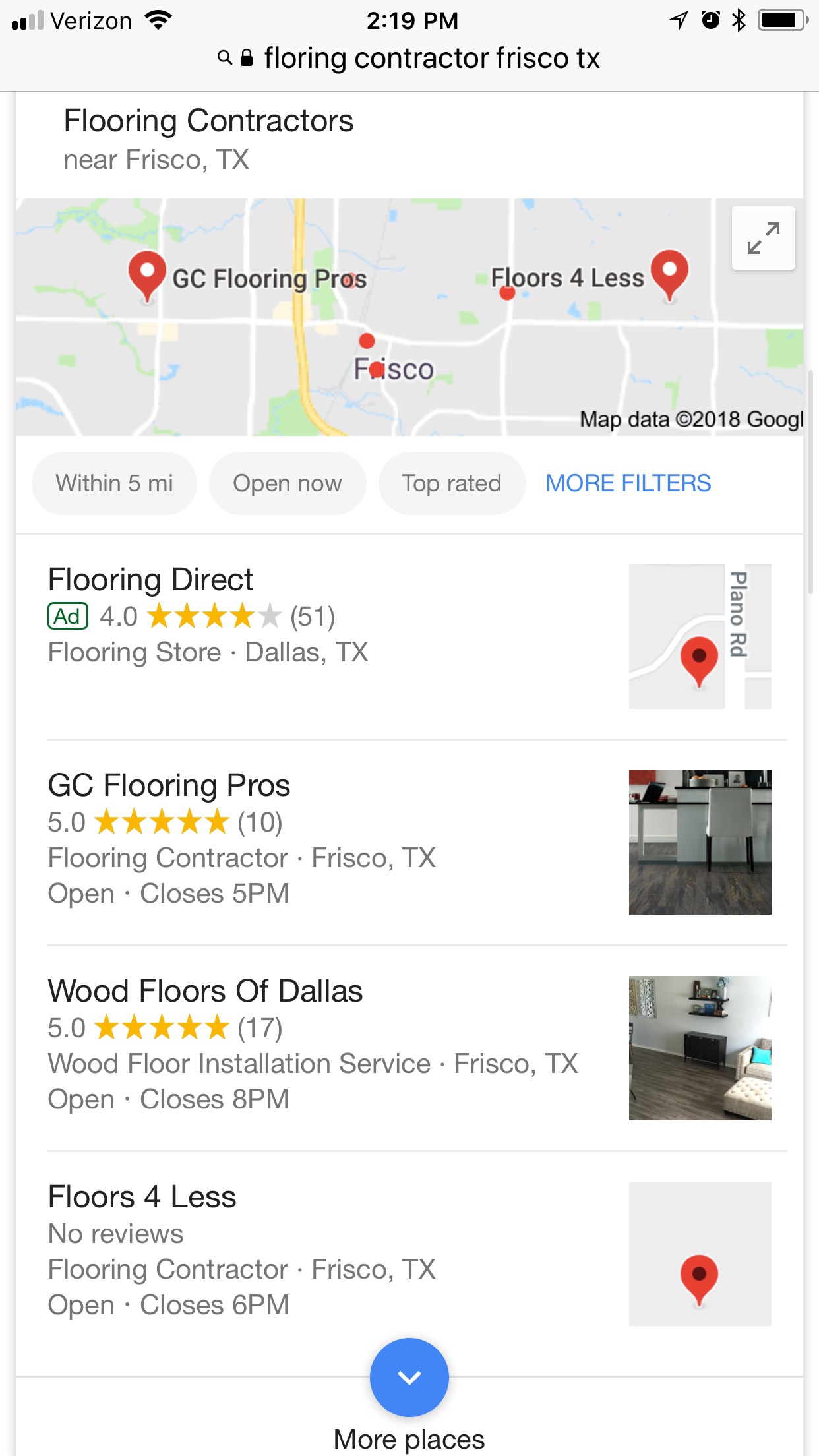 Email Marketing
Our email marketing services include custom graphic design that is matched to the branding guidelines of our clients. These also include: Email automation for sending at ideal times; Segmented lists to target specific customers; Custom text to mak boost open rates; Call-to-action to elicit some sort of action.
Use our email marketing services to promote special offers, feature products or services, send coupons, drive traffic to blog subscribers, and more.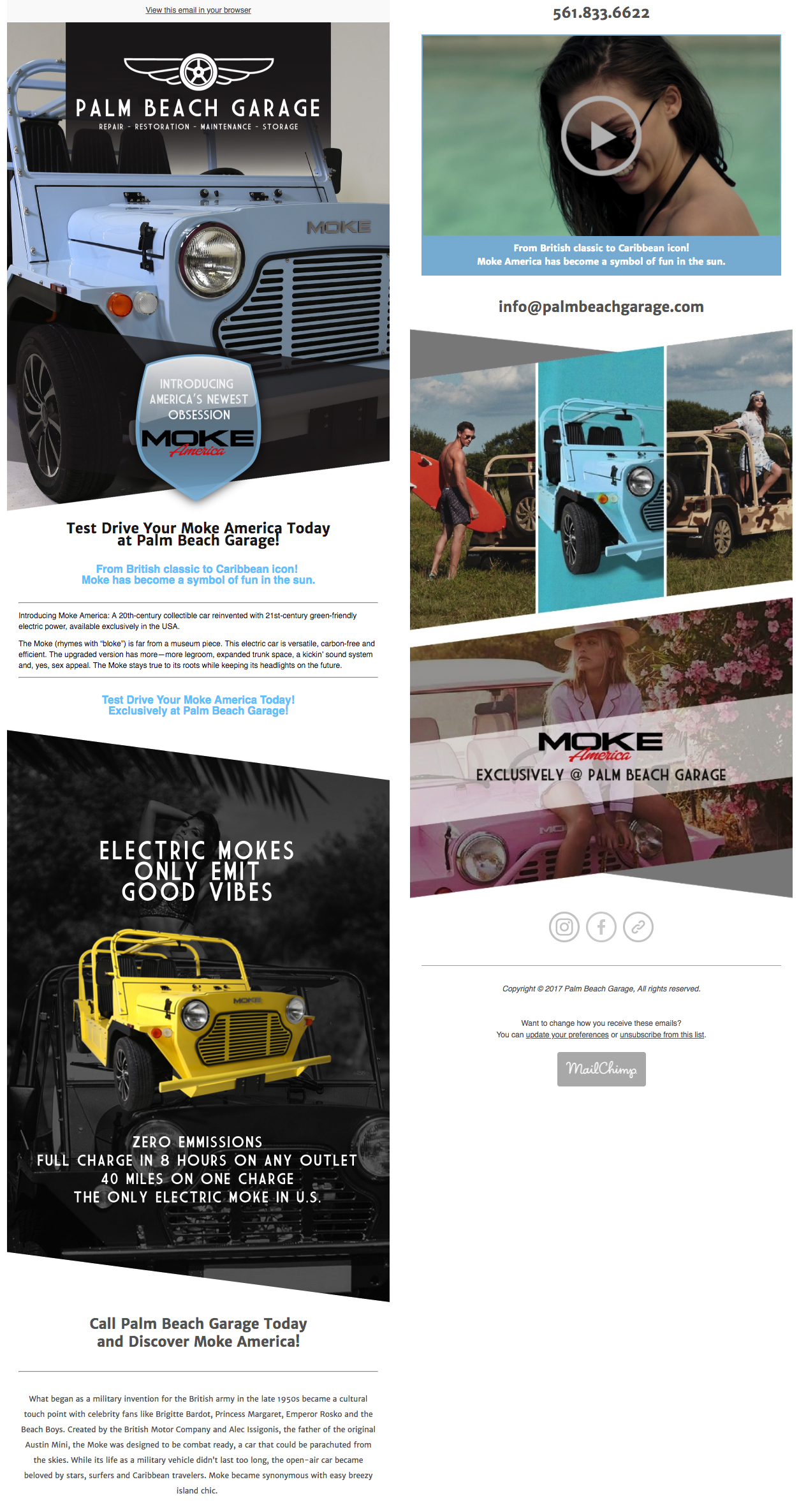 Whitepaper Design
Whitepapers or eBooks make great marketing pieces that we like to use to capture email leads in addition to generate brand awareness. Each whitepaper, like the below, is custom-created from start to finish and includes content creation, art creation, landing page creation, email automtion, and CRM integration.
Whitepapers can be used as marketing assets and promoted on B2B sites like LinkedIn and B2C sites like Facebook as highly effective ways to build brand awareness and grow email lists. With these emails,
we can now market to these potential customers on a regular basis, just as we have done with these client examples.
Schedule a discovery call