If you have tried conventional advertising methods for your cannabis business you've probably hit your fair share of regulatory roadblocks. Because medical and recreational marijuana are still illegal at the federal level, they pose lots of restrictions for marketers.
Today, I'm going to discuss how to navigate these roadblocks using some of the same techniques I've used for my medical marijuana clients so that you can continue to market your business in ways that provide a favorable ROI.
As a bonus, I'll even provide some tips and tricks on how to advertise on highly restrictive paid advertising platforms like AdWords and get around some of their restrictions.
Let's dive into some of the cannabis marketing regulations you're likely to hit on your journey to market your business.
Note: most of these tips and tricks are catered towards local businesses and the cannabis industry, but you can use them for national campaigns as well as in other highly regulated industries.
Cannabis Marketing Regulations: Who's Looking to Kill Your High
I'll provide some hands-on advice on how we've successfully gotten around some of these regulatory platforms, but first let's look at where you might get burned.
Google AdWords
At the basis of many digital marketing campaigns is the good ol' Google Keyword Planner. However, if you are looking to get good keyword data for cannabis-related keywords you'll probably see a big smoking "No ideas were returned for your query" notification and no data.
This is just the beginning of Google not wanting to play ball with marijuana-related marketing (yet).
Further, Google AdWords has a long list of prohibited content that falls under the Healthcare and medicines arena of "content that can't be advertised at all" for most cannabis marketing.
This also applies to the following Google advertising options:
Display network
Shopping
YouTube
Retargeting platform
Universal app campaigns
As I mentioned earlier, we have found some workarounds for AdWords that are working quite well for our clients that I'll share below.
Social Networks
The primary social networks that tend to work well for most local or small brands — Facebook and Instagram — are highly regulated under their Prohibited Content and Drugs & Drug-Related Products policies.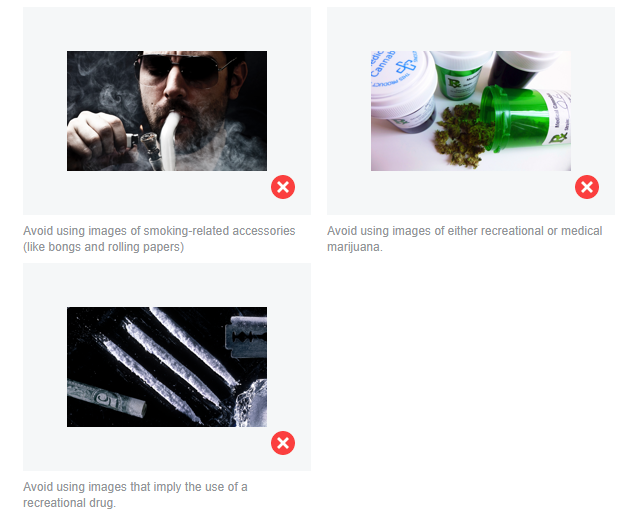 Retargeting Platforms
I contacted AdRoll, one of our favorite retartgeting platforms for our clients, regarding the use of using their platform to help with medical marijuana advertising. Like some of the pot-smoking end-users we are trying to attract, perhaps AdRoll is 'paranoid' about getting involved in a substance still illegal at the federal level.

Marketing Cannabis: Don't Get Skunked
In your efforts to market your cannabis business, here are some best practices that we've learned from trial and error.
SEO Continues to be the Best Marketing Channel for ROI
Although it took some time to get moving with SEO, we found that once it did it moved very quickly.
Local SEO for Ganjapreneurs
At the time I began a local SEO campaign for my client, THC Physicians, the usual local SEO strategies for ranking in the map pack and organic listings were not working.
By usual local SEO strategies I'm referring to — local landing page buildout, Google My Business Optimization, citation campaign, review campaign, link building, etc.
Later, I'd find out that other areas in the country — like Colorado where medical weed has been legal for a while — common local SEO strategies took a better foothold. But, in my clients' campaign, I found that Google was acting very stoney about what would normally rank in the map pack and organic listings.
Also, worth noting, there is no Google My Business category for "medical marijuana doctor" or anything related to the practice that was now legal in Florida and many other parts of the country. Thus, if you are doing a local SEO campaign I recommend the "Alternative Medicine Practitioner" category if your business is in the MMJ card arena.
To get around the lack of rankings for the map pack, I wanted to try an experiment that goes against local SEO best practices. Yes, it's true, an SEO telling you that he used a strategy that he does not recommend to any of his other clients. But it worked: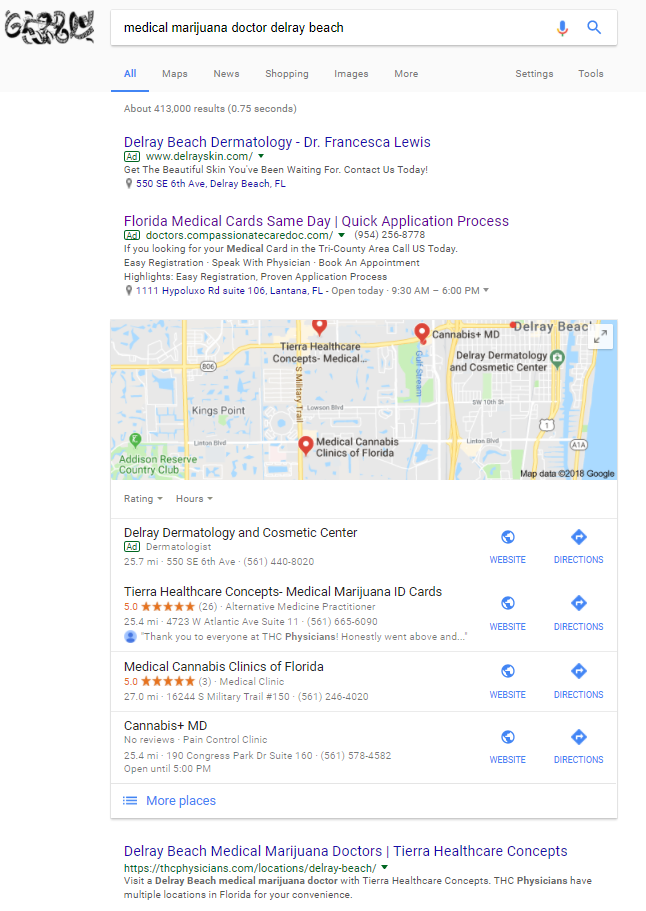 What did I do you ask?
Take a look at the screenshot above. You'll see my client (Tierra Healthcare Concepts aka THC Physicians) sits nicely at the #1 organic map pack spot as well as the #1 organic SERP spot.
For the map pack, I simply added "Medical Marijuana ID Cards" to the business name and almost overnight the site ranked #1. Now, if you know local SEO you know that you're not supposed to alter your business name or try to keyword optimize it, but I did both of these things and it worked.
I'm not necessarily proud of this workaround, but it really is Google's fault that they are still trying to regulate industries that are legal and forcing me to "keyword stuff."
Using AdWords Workarounds for the Medical Marijuana Industry
For our local clients, we've run both standard display network ads as well the new AdWords ad extensions.
As promised, we've also had really good success — a 13.44% conversion rate — with our Display PPC ads and over 15% with our ad extensions. According to the PPC gods at WordStream, "the average landing page conversion rate is 2.35%."
Keep in mind this is still highly regulated.
Now, I'm not going to give away all the secret sauce we are using for our cannabis clients in local verticals, but I will say that the way to get around the AdWords Healthcare and Medicine policies is by NOT using your restricted keywords in your ads.
Yup, that's right. For an example, look at the map pack image above again. You'll see that a competitor makes no mention of cannabis, marijuana, medical marijuana, THC, MMJ, or any other common marijuana language in their ads.
You CAN mention these words on your landing page and for the most part you are free to advertise the keywords you want on your site.
However, Google AdWords did contact me for an instance where some really odd keyword grouping — unrelated to medical cannabis — was mentioned elsewhere on the site (not on the PPC landing page) which they told me needed to be removed so we could run the ads.
So, if you avoid drug-related keywords in your ads you still may get them disapproved if Google finds other content they don't like on your site.
Anyhow, a 13.44% conversion rate using ads that don't have the same keywords as the landing page is really hard because this obviously affects quality score. I'll be the first to admit that setting up AdWords in the cannabis industry was challenging and had its roadblocks, but in the end we figured out some strategies and workarounds that are working really well for our clients.
Content Marketing for the Cannabis Industry: High Volume = High Rankings?
I mentioned above that the Google Keyword Planner is too stoned or too regulated to actually produce any good keyword data. So, where can you go to get sound keyword research ideas based on volume?
I've found that my favorite link building software, ahrefs, is also my favorite keyword research software for cannabis-related keywords. They provide accurate volume, additional ideas, and show me what is ranking in the SERPs so I know how competitive keywords are or who is dominating the results.
Other places to get marijuana content marketing ideas:
Google suggest feature: begin typing keywords into Google and take a look at the other topics that come up.
Google "Searches related to [keyword]:" located at the bottom of SERPs, this is often a great place to find long-tail keywords.
Buzzsumo: a handy tool for seeing what gets the most social shares.

In the Weeds: Marketing Challenges with Cannabis
You'll notice that I didn't discuss social media marketing as a success story within this post. That's because we haven't really had any.
Facebook and Instagram don't allow the paid promotion of any marijuana-related posts (that I've seen so far) so it has been hard to get exposure to our clients' content with anything other than SEO. To be fair, we don't spend much effort on the organic reach of these social channels either.
Outside of our deliverables, our clients' have been doing some more traditional marketing such as magazine ads. From what I understand, they didn't have much success with these and were disappointed at the ROI and shifted that money to SEO.
I think traditional marketing — print, TV, billboards, etc. — still have their place, but they have to be looked at as more of a brand awareness-type campaign, rather than a full blown, measureable campaign like SEO or PPC.
Who's got the Herb? An additional Influencer Marketing Approach
Beyond the traditional SEO and PPC approaches to cannabis marketing is one that has been emerging more in SEO circles around the world. This is paying influencers in related verticals to mention your content or brand to your target audience. Leafly has discussed this in-depth.
Paying high profile people, brands, or celebrities to gain exposure to their target audience is a great way to get third-party approval instantly and strategically. Check out the Leafly blog post for more information on that approach, specifically for the weed industry.
You can also utilize programmatic advertising platforms that are less restrictive with their ads. Or, go direct with industry-friendly websites like SwellSpy.com or other more chill surf sites.
By Polite, Pass to the Right
These are most of the cannabis marketing and advertising tips and tricks that we are currently using for our clients in addition to some of our more traditional SEO services. If you have any other experiences in this vertical or want to contribute a tip that has worked for you, please leave a comment. If you have any questions about these practices or are looking for experienced cannabis marketers, please contact us to discuss your unique project.
Need help with your SEO or PPC? Digital Elevator is a top-rated healthcare marketing company. Contact us today to discuss your goals.