Using the exact backlink analysis I'm about to show you, you'll be able to create a backlink strategy that gets you to the number one spot for your target keywords just like our clients:
Exclusively Hybrid and "toyota prius battery replacement"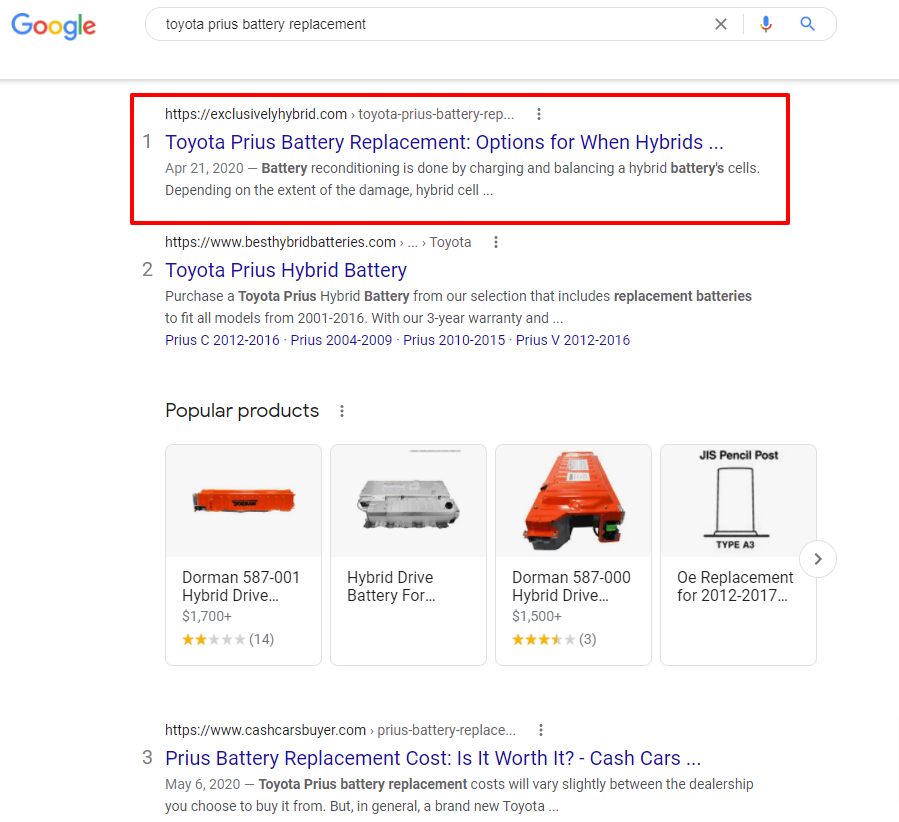 And Fitness Mentors and "best personal trainer certification"
If you want to learn how many backlinks your competitors are using to outrank you and the link building factors you need to consider to outrank them, you'll be happy to know that, with a little practice, you can execute this process in a few minutes.
All other things being equal — content quality, depth, and user experience — having more links than your competitors should help you to outrank them.
Here is the exact 7 step research process we use to determine the quantity of links you'll need to take over the SERPs.
Before we begin, I want to emphasize that we focus on the competitor backlink analysis from a URL basis, as knowing how many links are needed to rank a specific URL is really what a competitor backlink analysis is all about.
If you want me to do a video analyzing all the backlinks your competitors have for link prospecting, let me know in the comments.
Step 1: Identify primary keyword and volume
The primary keyword will provide the basis of your backlink analysis as it will showcase who ranks for your target keyword. It will also let you know the volume of this keyword and reveal how valuable it is to your SEO campaign and business goals. In short, it will help you triage your link building efforts based on competition and benefits.
For this example, let's use a previously published post from Guitar.com on the best acoustic guitar amplifiers to buy, with a primary keyword of "best acoustic guitar amp."
How to: There are several ways to pull keyword volume but I'll break down a free way and a way that uses premium software. The free way is to use Google Keyword Planner. Simply login, select "Get Search Volume and Forecasts," and insert your keyword for data.

Google Keyword Planner is good enough for many people, but it does have its flaws. Let's use the example of "best acoustic guitar amp" to showcase why.

For example, the keyword volume here shows a really wide range — 1,000 to 10,000 per month — and an arbitrary Competition value of "High."

Compare that to a premium keyword research tool like Ahrefs and you have much more granular data.

Using their Keyword Explorer tool and doing the same search we can see that Ahrefs provides data on Keyword difficulty, and in high contrast to Google Keyword Planner, says this search is easy to rank for. It also provides two volume estimates, one for my native country (USA) and one for Global volume. I find this data to be much more accurate, and telling, of how difficult it is to rank for a keyword based on my link building efforts.

Step 2: Note current rankings
your current ranking will provide an indication of how many more links you have to build, and gives you a benchmark for how the other factors in this process will influence your link building efforts. More on that later.
How to:
Noting current rankings is fairly straightforward. You can perform a search for your primary keyword in the SERPs and keep clicking until you see where you rank. If it's a newly published blog, you might be clicking for a while.
An additional way is to use the Site Explorer feature in Ahrefs, using the Exact URL feature to review rankings.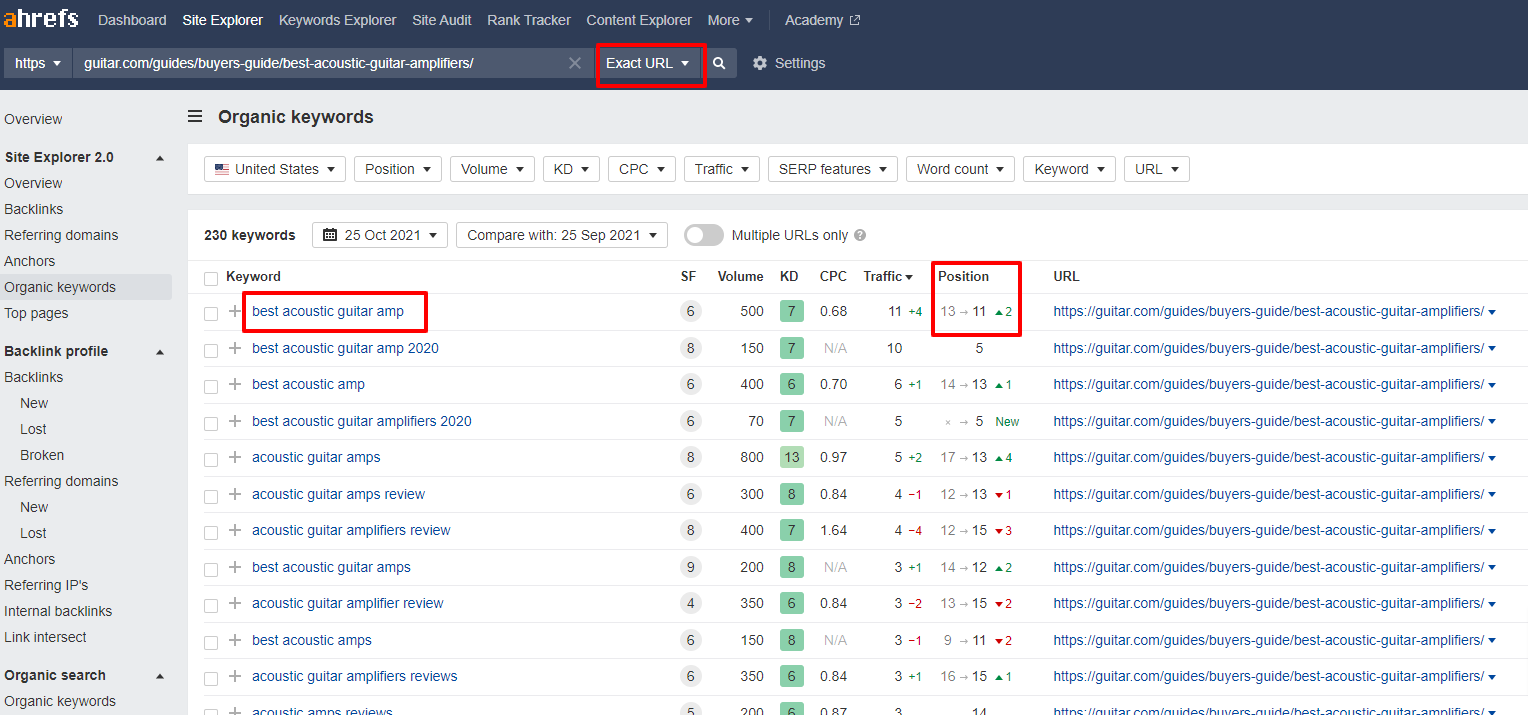 Step 3: Note your site's domain rating
The Domain Rating, or DR, of your website is defined by Ahrefs as "the strength of a website's backlink profile compared to the others in our database on a 100-point scale." In short, the higher a site's DR, the more weight it carries and therefore the easier it is to rank. Why is this important? Well, if you are going after a keyword and trying to decide how many links you need to build and your research tells you that all the sites that rank for that keyword have high DRs, it might mean they inherently can rank without a lot of links while your site may not carry the same weight. Basically, a site with higher DR has more trust than a site that does not.
How to:
To find a site's DR, you can use the Site Explorer tool from Ahrefs, using the Overview option on the left sidebar.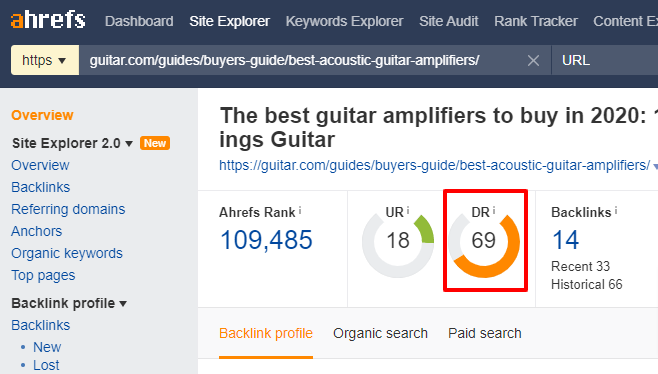 Step 4: Note your URLs Referring Domains
You'll also want to know how many referring domains your site has as we'll be comparing this metric to the top ranking sites.
How to:
Again using Site Explorer, mark the number of Referring domains you've earned.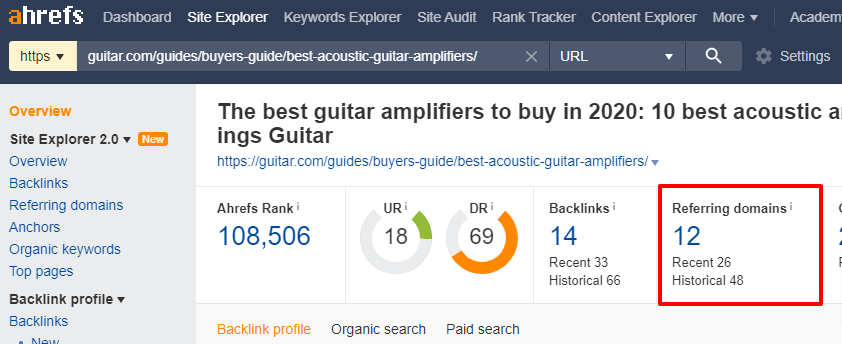 Step 5: Note lowest Referring Domains of top three competitors
If you want to earn any respectable amount of traffic from your keywords, you'll want to strive for the top three positions in the SERPs. This does not dismiss the fact that you can earn a lot of long-tail traffic before you rank in the top three for your primary keyword, but since we are basing these link metrics on your competitors, you'll want to know which of the top three competitors has the lowest number of referring domains.
How to:
Ahrefs makes it really easy to find this, and the next metric (Domain Rating) within their Keyword Explorer tool. After entering your keyword into the tool, scroll to the bottom of the page to get these metrics.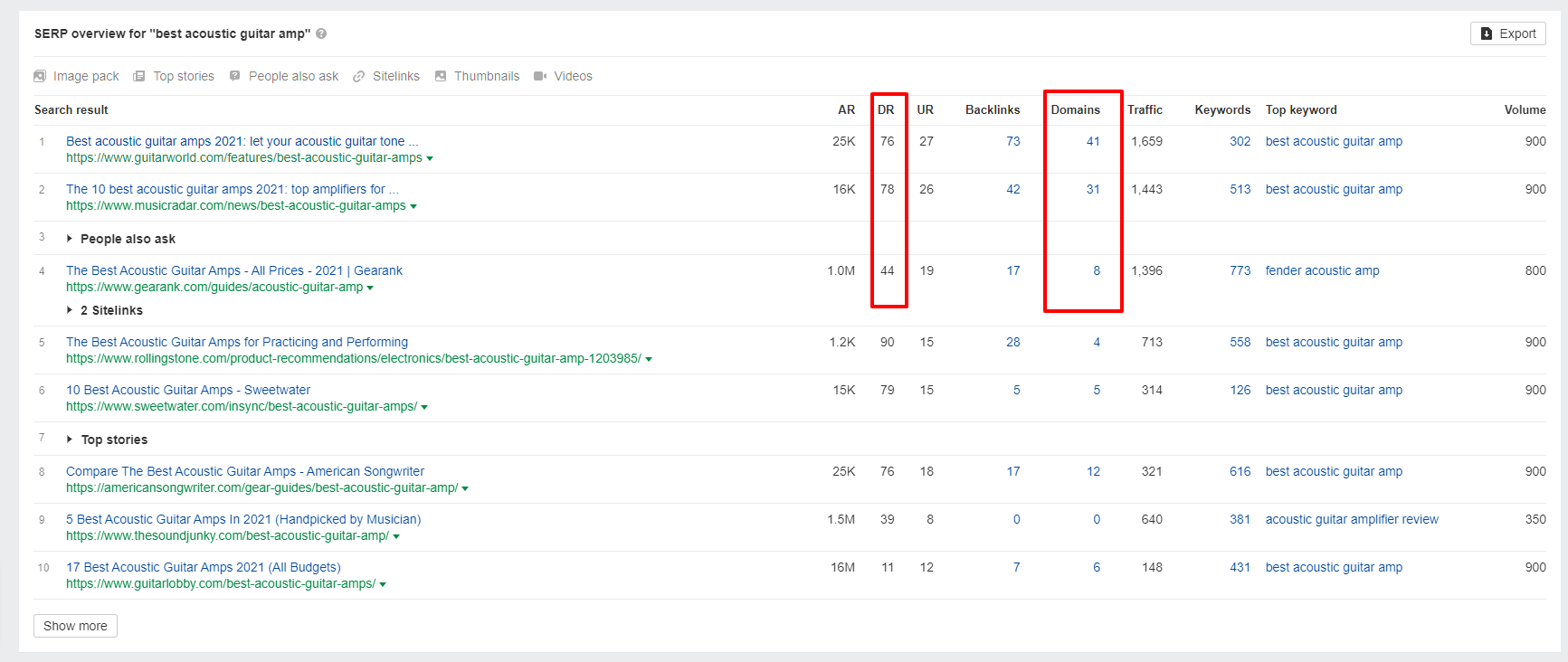 Step 6: Note lowest Domain Rating of top three competitors
Just like it is important to know your own DR, it is important to know the DRs of your competitors.
How to:
We already have the data from an easily accessible area on the Keyword Explorer tool, so we'll make a note of that.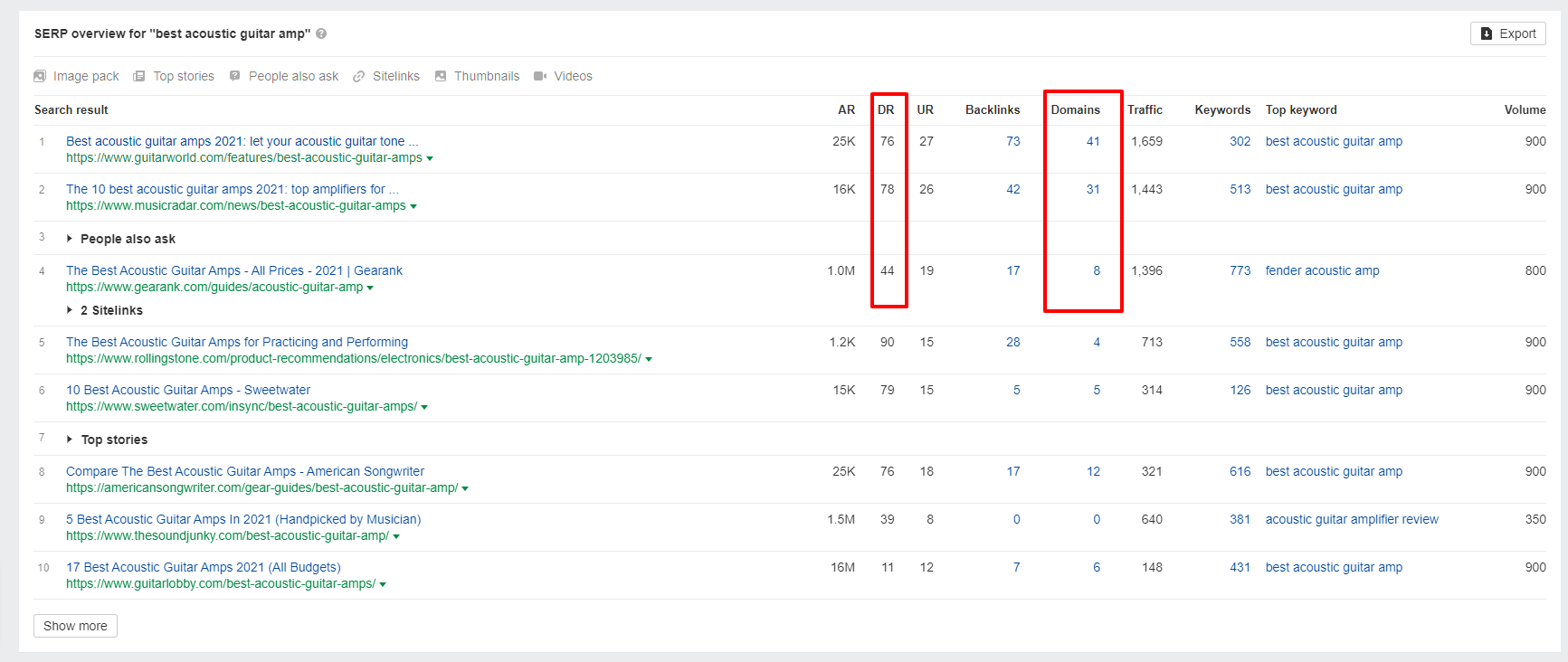 Step 7: Note suggested Referring Domains from Ahrefs
You may have seen that this metric was already revealed when we referenced that Ahrefs said this keyword was "Easy" to rank for. Now you may be saying, "why did we go through all this trouble of pulling all this data when we could have just looked at this one metric to get an idea of how many links we need to build?" Good question. The fact is you need to dig a little deeper than this general metric using the other information we've pulled to determine how competitive a keyword really is to rank for.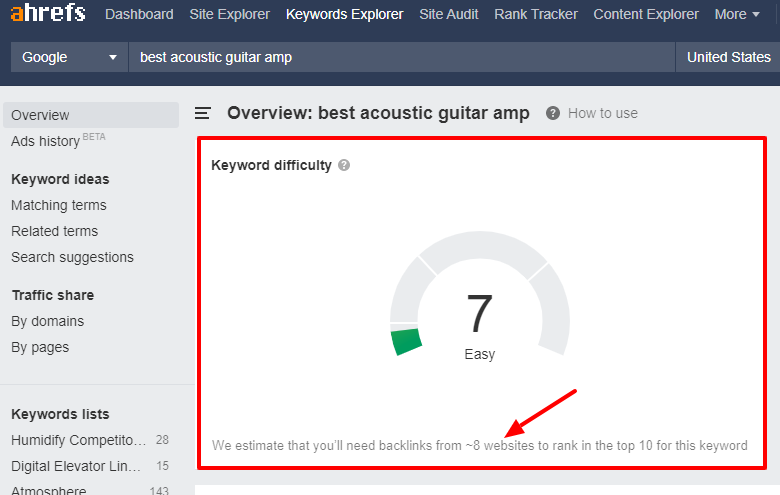 Interpret Backlink Analysis Data
Now that you have gone through the process of pulling all this data you should have a spreadsheet that looks like this.

In our Guitar.com example, things to note for our second page ranking for "best acoustic guitar amp" are the following:
Currently rank 11 for target keyword
Domain rating of 69
Referring domains 12
Lowest Domain Rating of top three competitors 44
Lowest amount of referring domains of top three competitors 8
Suggested referring domains from Ahrefs 8
Upon analyzing this data alone, we can conclude that we should have enough links to be within the top three ranking positions. One of the top three spots have a smaller Domain Rating (44) and fewer referring domains (8) than Guitar.com and we have satisfied more backlinks than what Ahrefs is telling us are needed to rank in the top 10 (we have 12 to their recommended 8).
So what do we do now? Quit SEO?
This is an important SEO lesson in that sometimes data alone will not tell the whole story. Rather than go through all the scenarios surrounding why the Guitar.com site might not rank better, I think I'll chalk it up to their title tag "The best guitar amplifiers to buy in 2020: 10 best acoustic amps." The top three results all reference 2021, the current year.
Perhaps updating the title to the current year (and even the gear reviews) would allow Guitar.com to take its rightful position near the top of the rankings. For now, they have a good understanding of how they stand from a competitive backlink standpoint and what to do for other posts they want to evaluate and so do you.