If you own a gym or some other type of fitness establishment (ex. CrossFit), there's a good chance a bulk of your leads will come from your website. Thing is, you may not know how to optimize your gym's website for SEO or how to get the most out of the traffic it currently generates.
As a whole, it seems there is continued interest in health and fitness as revealed by Google Trends data.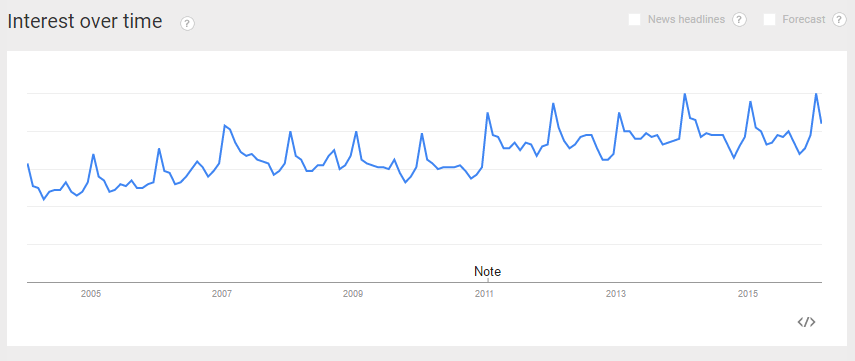 As the above information clearly shows an upward interest in gym-related search engines queries, you'll want to do all you can to get a piece of the pie.
Keep the below information handy when building out your gym website or if you are a web development agency building out gym websites for your clients.
A good gym website includes these five must-have elements
You ever go to a website for the first time and feel like you've been there before? That feeling creates a sense of trust in a brand and you'll want to try to establish that right off the bat with your gym website. Here are some standard items that should be on your site:
1. Address and contact info
Gyms are highly localized businesses meaning your target audience will only travel so far to get to you. According to a poll conducted by BrightLocal, clients will drive a shorter distance to local businesses that offer leisure pursuits. The gym, in this poll, was a business that merited a 12-minute drive time.
It goes without saying that people will want to know where your gym is before they sign up so make this information easy to find. I recommend embedding a Google Map of your business on a clearly identified contact page.
2. Photos of interior and amenities
If someone is going to spend their hard-earned money on a monthly commitment like a gym, they are going to want to know what it looks like inside. Invest in a professional photographer for this one and leave the dark, foggy, cell phone images for social media.
3. Your offerings and membership packages
Like a restaurant should showcase their menu, your gym should showcase the services or classes it offers. Each service should get its own dedicated page as to provide it the best opportunity to rank in the search engines. Learn more about that in this gym SEO case study.
The membership packages are also huge items your potential clients will be looking for. Take it a step further by mentioning the membership packages on the site, everything that is included in them, and provide clients the ability to checkout right online.
4. Testimonials
Nothing says your gym is awesome like recommendations from your existing clients. Get testimonials, reviews, and before and after transformations and put them on a dedicated page on your site as well as a few on the homepage.
5. Way to get a free pass
A great way to get leads is to offer a free pass. Some gyms offer a free pass for a few days, others offer a free month if the member signs up with a credit card. The latter approach may work best as it gets them in the system, allows for more time to get acclimated to the gym, and provides the whole satisfaction guarantee thingy (if you have one).
On-page Elements Set the Tone for Your Ability to Rank
Going along with number three above, some of the best things a gym website can have to attract more search engine traffic are some solid on-page elements.
If you want to try to rank a spinning class for your gym in Chicago for example, you'd be advised to do something like the following for your spinning class page:
Create a title tag like "Spinning Classes Chicago- [gym name]"
Create a H1 like "Spinning Classes Chicago"
Create a URL like "example.com/spinning-classes-chicago"
Add "spinning classes Chicago" within the content of that page
Add an image and make the ALT attributes have the words "spinning class Chicago" in them
Schema.org is a Search Engine's Best Friend
Schema.org is a vocabulary that is used to help webmasters and developers communicate what their pages are about in a search engine-friendly way. Google, Bing and Yahoo all sponsor Schema.org and these schema's, called structured data, are a great way to get more interest from search engines to your local site.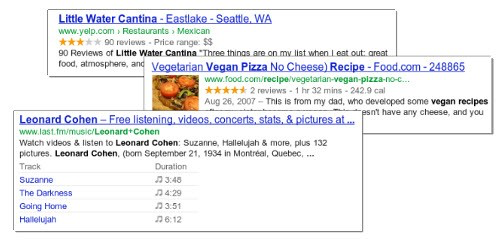 If you have a WordPress website, you can install a plugin to help you get this structured data on your pages. Check out LBC Local SEO or Local Search SEO Contact Page or, for a paid option, this option from Yoast.
If you don't have WordPress, the quickest way to get this HTML is Schema Creator.
Business Directory Listings/Citations are a Must for Local SEO
According to data from Moz, external website signals like citations (a fancy way of saying directory listings but a citation can also mean simply a mention of your business online) are one of the most important ranking factors.
The most important of these by far is Google My Business, a free listing that allows you to take ownership of the way your business appears online. The idea with citations is to claim as many as possible, starting with the ones that already rank on the first page for searches related to your gym.
For example, a Google search for "gym Chicago" currently reveals Yelp at the first two spots. That would be a great place to list your gym since that is likely a highly popular page. Other important directory listings include Facebook, data aggregators like LocalEze, gym-specific directories like FitLink, or region-specific directories like http://www.denver.com/places.
There are some great services that offer citation building for you such as BrightLocal and WhiteSpark. Digital Elevator offers citation building as part of our local SEO packages and you can always just do it yourself (check this blog for a nice list of citations).
There are no hard and fast rules to how many citations you should build but generally we build our local SEO clients anywhere from 40 to 100.
A Review Strategy is Great for Social Proof and SEO
In addition to being a driver of social proof that your gym is the place to be, reviews also have been correlated with higher local rankings as well as a major factor in purchasing decisions. Therefore, it makes sense to encourage your gym clients to leave reviews of your business on Google as well as the other popular directory sites (commonly Yelp, Facebook, Yellow Pages).
To get reviews, send out emails to existing clients you know love you and provide them with the links to your directory listings so they can leave their five-star reviews. You can also create links to your directory pages on your site so they are visible and can be navigated to easily.
Link Building is Tough but a Major Ranking Factor
Links are probably one of the hardest things to do for a local business. They are also one of the most important; the aforementioned Moz study we linked to early puts link signals as the second most important ranking factor for local SEO.
When you're building links it's important to have in mind that this work is time-consuming and sometimes very hard. To ease your work you can use this tool - Linkio.com which can be a huge time saver and also will automate your process and give you the exact link building game plan for any target website.
They also have a blog dedicated to local link building that is worth a read as is this local link building guide from ahrefs.
Final Word on SEO for Gyms
Gyms are really mini communities so it always helps to try and showcase what your community is like through your website. Still, before you can do that you'll have to actually get people to come to your website.
Take the above advice and implement it into your website to help your gym rank for all of the classes, services and amenities it offers. These same principles can be applied to small gyms or CrossFit-like establishments.
If you have any questions or other input, please feel free to reach out to me or leave a comment below.