In our years of running custom PPC campaigns for SaaS companies, we've learned a trick or two about appropriate use of funds and targeting the right audience across the top (TOF), middle (MOF), and bottom (BOT) of the sales funnels
Where we see most companies (PPC agencies or self-managed PPC) get it wrong is by only targeting one part of the funnel instead of all three.
Below, we'll look at the sales funnel and some tactics we consider when running PPC campaigns for our SaaS clients.
A Quick Review on the Top, Middle & Bottom of the Sales Funnel
Top of the Funnel: At the top of the funnel, you are driving awareness to your brand. These people may not know who you are, and your marketing efforts generally assume as much.
Middle of the Funnel: After awareness of your SaaS in the product mix, the middle of the funnel is where you help showcase why you should be considered amongst your competitors.
Bottom of the Funnel: The bottom of the funnel is where the key conversions happen and where you convince users to demo and purchase your SaaS over the others.
Here's an example of Larry, our made-up persona, moving through the funnel. Larry is a product lead at a large fitness brand and is involved in video content creation and distribution.
SaaS Ads Example
A SaaS prospect is targeted at the top of the funnel:
Larry is on LinkedIn and sees a promotion for a free white paper on a recent guide to optimizing digital video infrastructure. Larry clicks the download button and is granted instant access to a well-made white paper from a brand he's never heard of. Larry learns a lot from the white paper and keeps it on file with the plan to show to his team on the engineering side of the business.
The SaaS prospect moves to the middle of the funnel:
Six weeks later, Larry is at a meeting with his executive team and shares some of his insights on digital video infrastructure optimization that he thinks will work for the company. The C-suite tells Larry to find some potential vendors in the space that may help them with their goals. In addition to performing Google searches for video distribution software companies, Larry sees a retargeting ad from the initial company he downloaded the white paper from and requests a demo. He also schedules a few demos with other companies whose ads he clicked on.
The Saas prospect moves to the bottom of the funnel:
After meeting with four potential vendors, Larry makes the recommendation to the C-suite to use the services of the initial vendor he received the white paper from. Subconsciously, Larry felt that the educational experience he went through gave that company the most credibility to solve his companies challenges with video distribution.
This example plays out every day across the web, with additional layers trickled in that I've left out (such as email marketing to Larry, webinar invites, and Larry's further research on the topic with blogs and other forms of organic content marketing).
Now that we know some PPC sales funnel use cases, let's look at more specific examples for each stage of the funnel.
Top of the Funnel PPC Campaign Examples
Here are a few examples of top-of-the-funnel PPC campaigns we've run for select clients to help bring awareness to their business and begin to drive traffic.
White Paper / eBook Promotion Campaign
Channel: LinkedIn
Target audience: Interest & Position Based
Ad type: Leadgen forms
A white paper or eBook can be a powerful asset when building an inbound marketing strategy to your SaaS, but it needs to be in front of the right people to turn that investment into a success.
We recently ran a lead generation white paper PPC campaign for a SaaS healthcare client that boasted some good results. After a couple of months, we managed to get the CPL to around $40.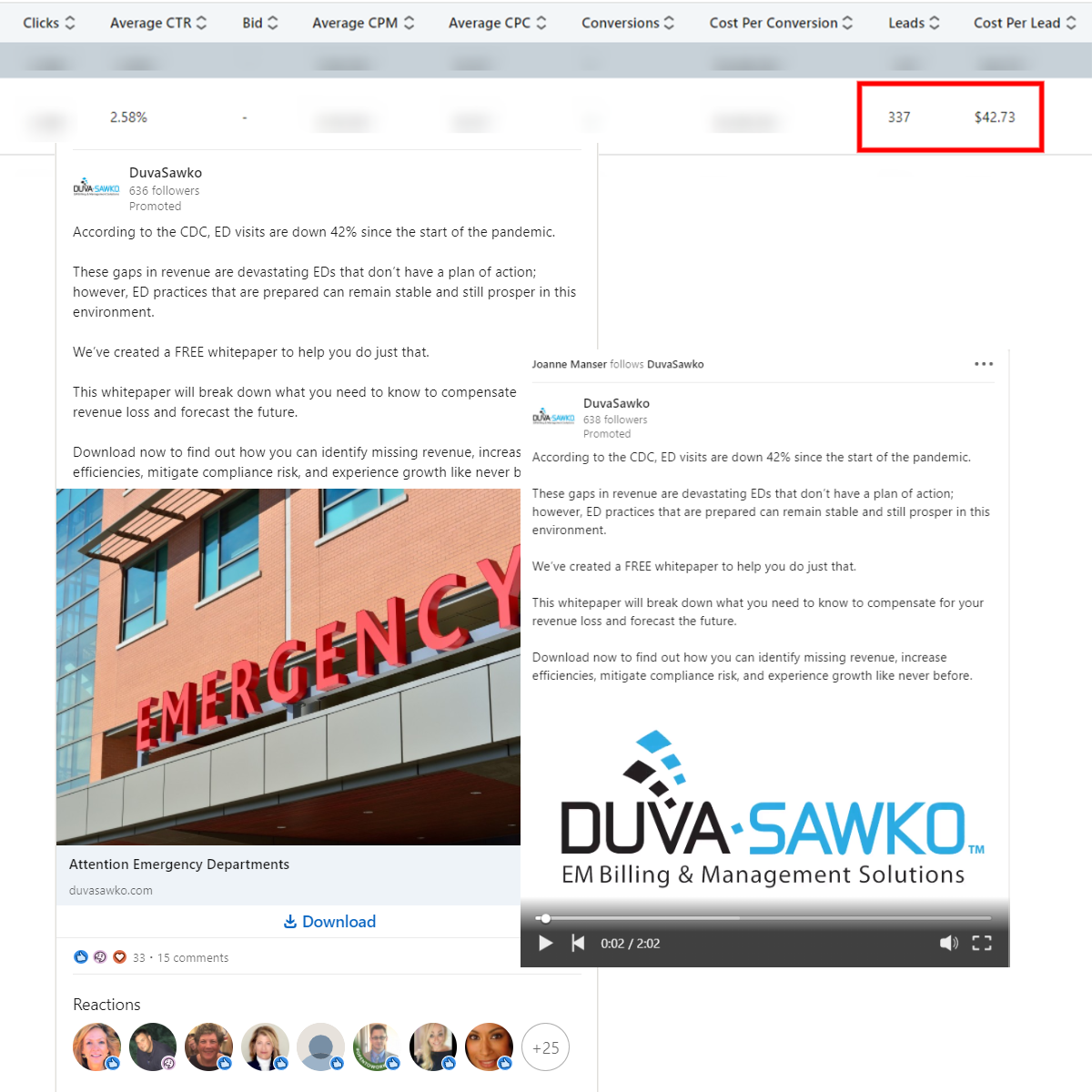 While this CPL may not be a good benchmark for every SaaS industry, for this client it was. For starters, their average client value was around $400,000 per year, with a lifetime value in the seven-figure range. Secondly, we were targeting a very niche market of a niche market (yes, a niche of a niche) so the net we could cast was rather narrow but made for a perfect LinkedIn campaign.
Pro Tip:
It is critical to direct people to a 'gate' rather than the actual content with white papers or eBooks. The point is to gain their contact information (which LinkedIn takes care of without much friction) and start them in the sales funnel. Therefore, it is recommended to build a landing page to download the asset on-site after the leads fill out the form on LinkedIn as opposed to directing these leads to your asset directly from LinkedIn (note that you can't retarget from PDF links which is why we send them to a landing page).
With the recommended approach, you gain the following benefits that you wouldn't if you'd just used LinkedIn's form alone:
You direct people to your website giving the opportunity to learn more about your brand and engage with your content.
You provide yourself an opportunity to retarget these visitors based on the way they interact with your site. For example, if they landed on your gated page and made it to a software demo page, you'd want to retarget them with ads that encourage them to try a demo.
You provide an optional opportunity to move further down the conversion funnel, should they want, like in the example below.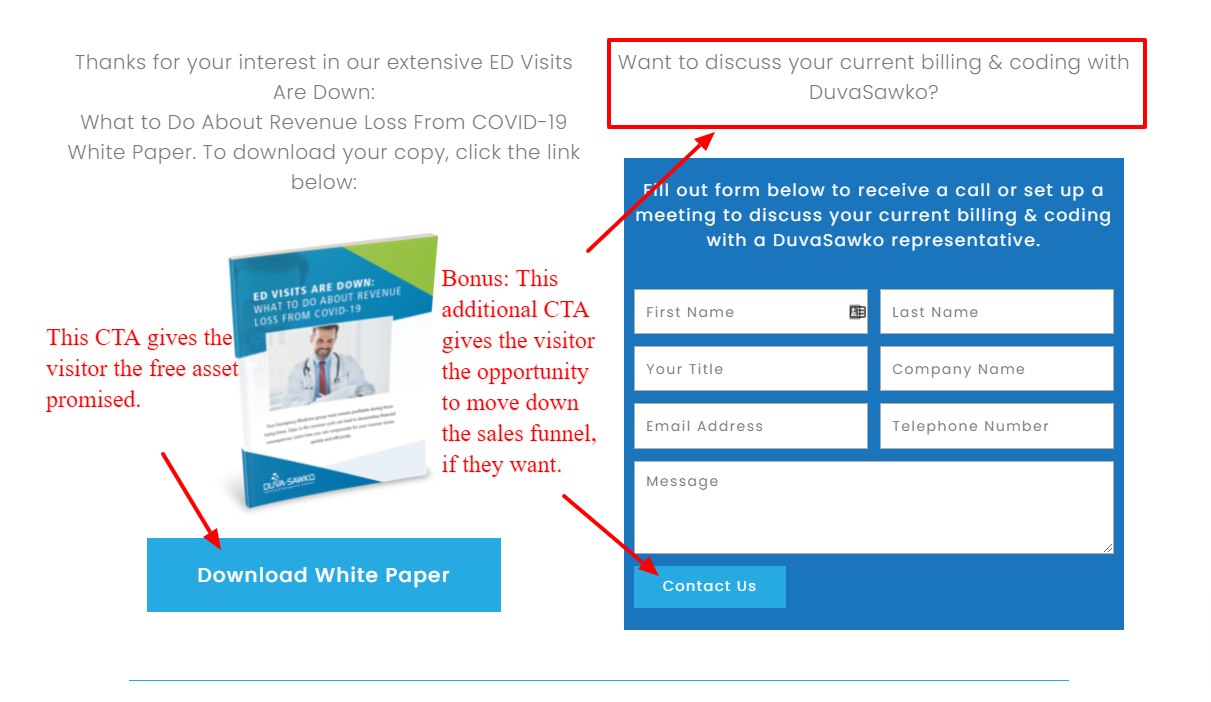 Steps to take to emulate a top of the funnel SaaS white paper campaign like this:
Create a meaningful white paper your ideal customer would be interested in
Build a landing page to promote your white paper
Launch a LinkedIn PPC campaign using Lead Gen Forms (and connect your CRM)
Redirect your leads to your landing page
Social Video Demo Campaign
Channel: Facebook
Target audience: Interest & Position Based
Ad type: Video Ad / Video Carousel
Facebook offers very detailed targeting options, such as by job title, household income, business industry, etc. Therefore, it is usually an excellent way to increase the reach of important content from a content marketing perspective by boosting it and reaching targeted audiences in their streams.
Check out this top-of-the-funnel social video demo from WeTransfer as an example.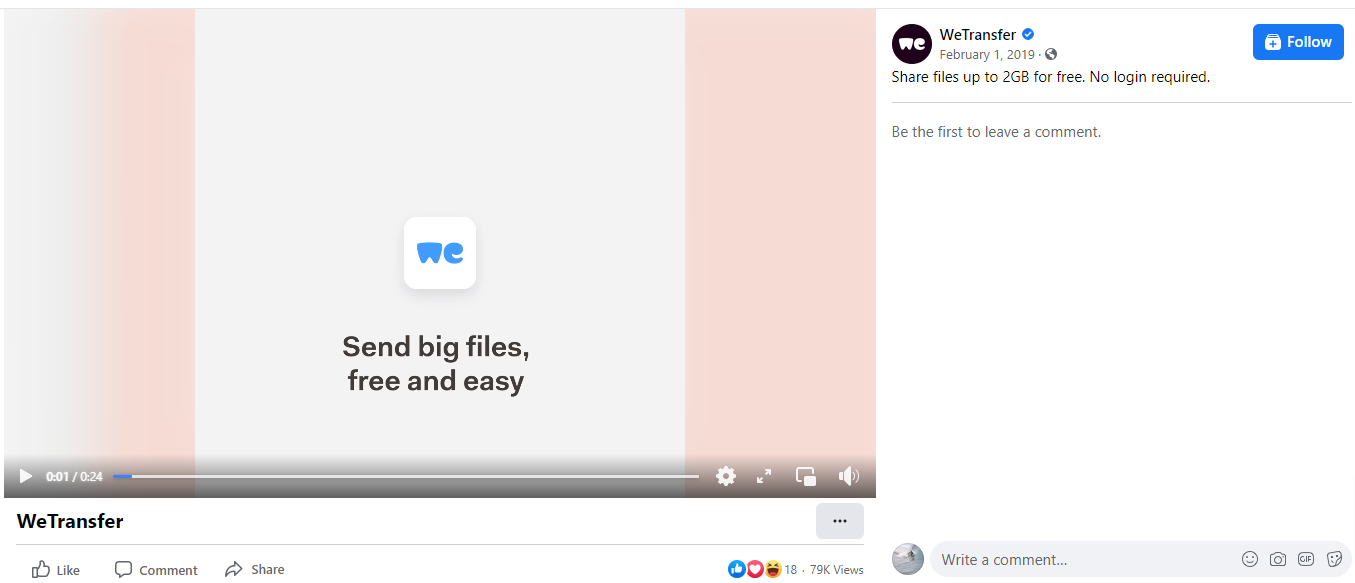 This video demo on Facebook sums up their software offering in 24 seconds with a clean CTA: Share files up to 2GB for free. No login is required.
Oddly, this desktop example has no clear call to action although the mobile example we saw from the Aaron Zakowski site does.
Middle of the Funnel PPC Campaign Examples
Branded Search-based Competitor Targeting
Channel: Google Ads
Target audience: Keyword based
Ad type: Search campaign
In a nutshell, AdWords competitor targeting is simply bidding on the branded search terms for the biggest competitors in your space.
Check out how YuJa bid on their competitors' search term "kaltura pricing."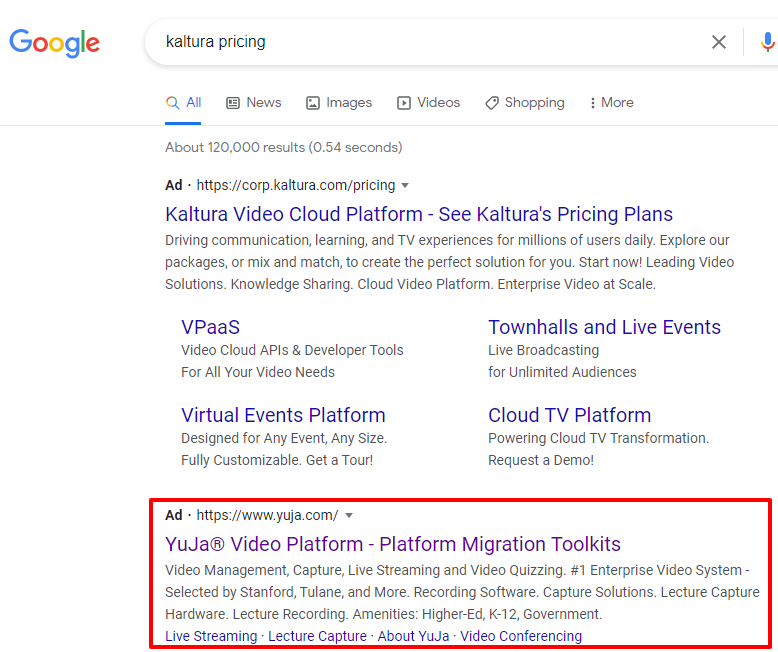 This is a smart SaaS PPC technique for a number of reasons:
It allows you to bring brand awareness to searches who are already in the middle stages of the buying cycle.
It allows you to go after higher intent keywords such as "pricing" that clearly indicate a searcher is closer to a decision-making process.
It allows you to go after what are often high volume, low cost keywords.
It allows you to get creative with your unique selling proposition (USP) to encourage click-throughs.
There are two main hooks (used in your heading) you can use to steal branded clicks:
Offer better pricing
Create a value proposition that competitors don't address
Note: YuJu's use of "Platform Migration Toolkits" language in their ad is not super relevant from an intent perspective. A query for "Kaltura pricing" likely has the intent of someone searching for pricing and who is likely still shopping around. The language used seems to be geared towards someone who is wanting to migrate from existing software and would likely use a different search query.
However, YuJa's landing page does live up to the promise of being a great comparison page to Kaltura and provides unique selling propositions in different ways.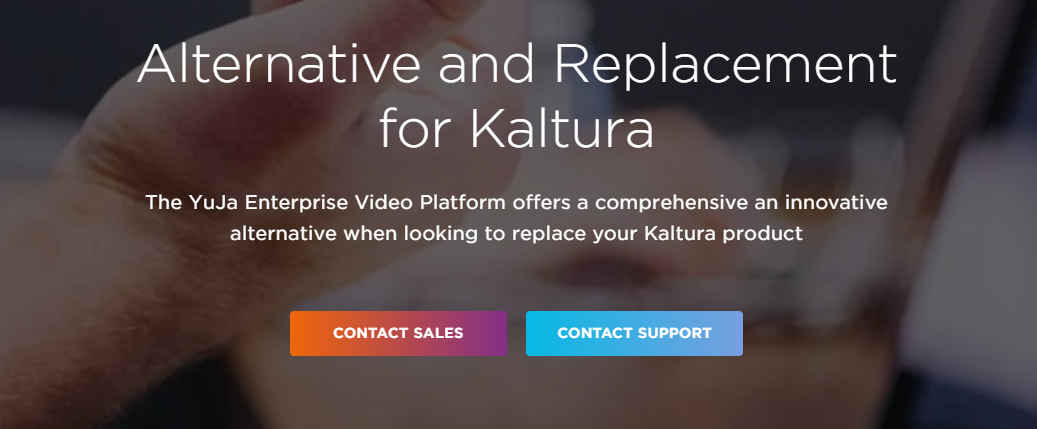 For starters, YuJa goes right at Kaltura with their heading "Alternative and Replacement for Kaltura". This also showcases that YuJa is matching their landing page content with the direct competitors that are used in the ads.
They could have used vague "Enterprise Video Platform" language but instead, mention Kaltura specifically and likely have several iterations of this landing page (and competitor search campaigns) for all of their competitors.
There isn't any distinct USP as to why YuJa is better than Kaltura but they do provide some social proof to help with the consideration of this software in their mentions of companies that have made the switch:

Here's another example.
A search for "Basecamp pricing" takes me to an ad on a Monday.com landing page with the below USP comparison table. Monday.com uses a grid to showcase their USPs which, in this case, are features.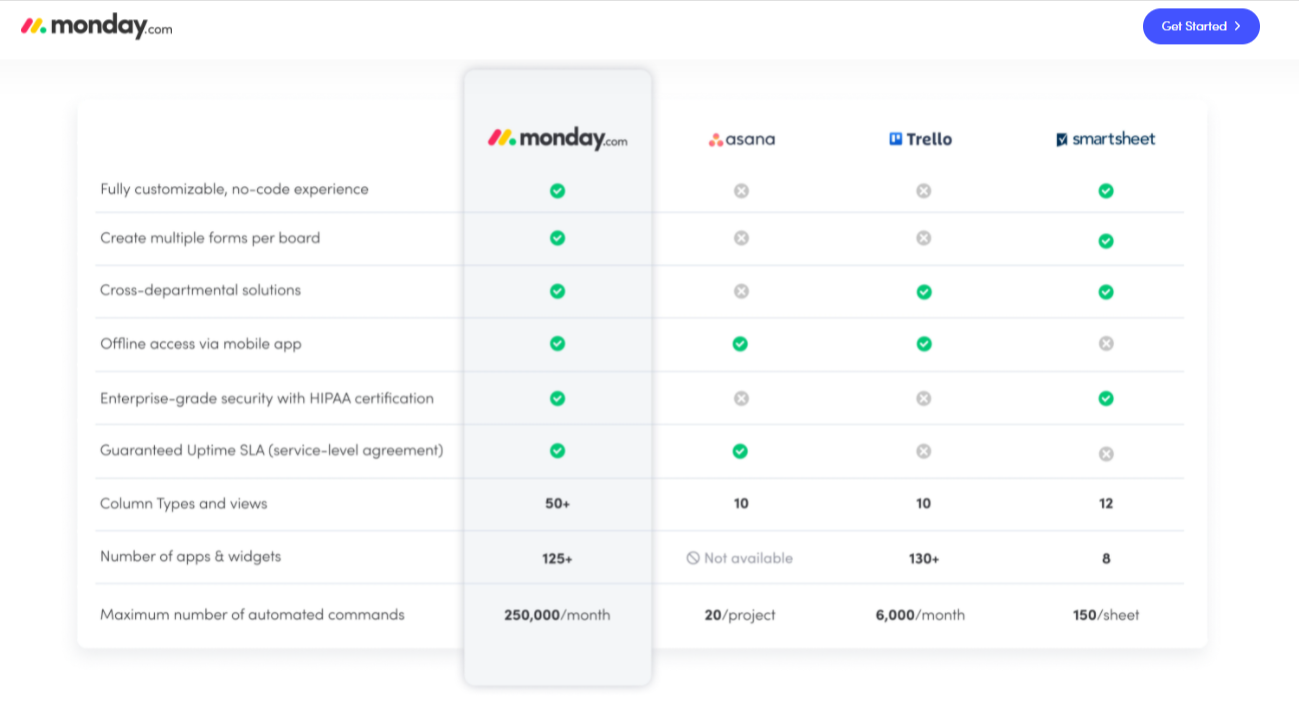 Pro Tip:
We recommend segmenting competitors based on the above factors and creating landing pages and ads accordingly. In addition, we recommend creating a customized landing page for various competitors, such as a "vs." page, emphasizing the benefit of your SaaS over competitors' services to improve conversion rates.
Retargeting with Webinars
Webinars can be a really powerful SaaS tool when done correctly. And because "done correctly" is a very ambiguous statement, here's a really good resource on evergreen SaaS webinars where you can learn the ropes.
Before going deeper, it should be noted that webinars can really serve the middle and top of the funnel well, but here, we will focus on a middle of the funnel example.
We recently created a good breakdown on how to run effective PPC marketing funnels on Facebook that utilize webinars in the middle of the funnel.
Here's a breakdown of how that works:
ToF: First, create a blog that resonates with your target audience and send paid traffic to it to get brand awareness up and build trust with our free resource. This traffic will serve as the retargeting piece of the pie.
MoF: Next, retarget these blog viewers, this time with an invite to join a webinar.
BoF: Finally, with an additional retargeting layer, the website visitor and the website visitor who opted in and watched the webinar are targeted once more, this time for a more direct call to action to book an appointment.
While the blog initially drives interest and brand awareness, it's the webinar that pushes people over the edge to move into that consideration mode.
Below is an example of a retargeting ad for a webinar from Neil Patel.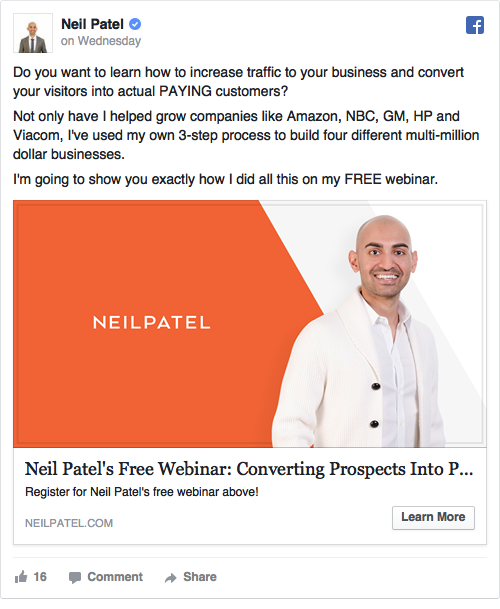 Honorable mentions for middle-of-the-funnel PPC strategies:
Non-branded search: The most obvious of all Google Ads campaigns, non-branded searches target specific high intent keywords related to your SaaS.
Branded search: The targeting of your company's name in search results to take up real estate in the search results and to protect your brand from competitors who are trying to do the same.
Product and Pricing Page Based Retargeting: Retargeting users who visited specific product pages and the pricing page with ads. For example:

Offer: Discount + show competitor comparison landing page to address buyer hesitation

Engagement Based Retargeting: Retargeting users who spent 4m+ on a high converting blog page.

Offer: Free Trial or Demo
Bottom of the Funnel PPC Campaign Examples
Bottom of the funnel is the most fun aspect of paid marketing because you are targeting people who are the most likely to buy.
One of the best ways to know who is most likely to buy is based on their behavior. Assuming you have cookies setup on your site you can retarget specific users (by behavior) who you think are most likely to make a purchase.
Let's go back to the hypothetical Larry example.
Larry visited Monday.com from the ad he clicked when he searched for "Basecamp pricing." Larry thought Monday.com was pretty cool, and Monday.com thought Larry was pretty cool too, targeting him with display ads for their project management software because they knew, from Larry's previous behavior on the project management software comparison page, there was a pretty good chance he might soon be in the market for some PM software.
Turns out Monday.com was right, and Larry quickly moved from the awareness stage into the decision stage. Larry indicated this by visiting Monday.com's pricing page several times, four in fact. At that time, Monday.com triggered additional retargeting ads to actually make it difficult for Larry to pass up the opportunity to use their software via a special promotion.
Because Monday.com's goal was to get Larry to make a purchase, and they'd seen that he'd visited their pricing page four times, they knew the time was right to send Larry a unique pricing incentive to finally get him to convert.
Behavior-based Retargeting SaaS Prospects
Channel: Google Ads
Target audience: Activity-based
Ad type: Display ads
As we saw in the example of retargeting ads to close Larry, we learned that creating an audience based on their behavior, and an offer unique to that behavior, will increase the likelihood you'll get results. Of course, retargeting in and of itself is not inherently bottom-of-the-funnel, but it is arguably the best bottom-of-the-funnel PPC tactic for SaaS companies.
When designing your bottom-of-the-funnel offer, make sure it is aligned with the goals of your company and the list you are promoting, especially if you are targeting multiple areas of your software.
Here are some potential retargeting campaigns you can run with some conditional logic that would take the user into consideration:
Pricing Page Abandonment: Users who spent 1m+ on the pricing page but moved away / exited without conversion
Checkout Abandonment: Users who visited your checkout page but never converted

Offer: Offer a time-sensitive discount
If there are other paths users can take on your site that will logically make you say 'hey, that guy is probably very interested in our service' then you may want to create a retargeting list with them and hit them with ads.
Branded Search for High Buyer Intent Keywords
Above, we referenced using branded search for middle-of-the-funnel-type opportunities related to specific brands (ex. Basecamp pricing).
But you can also use branded search to go after bottom-of-the-funnel queries.
For example, check out this ad for a "Google sheets and QuickBooks" search: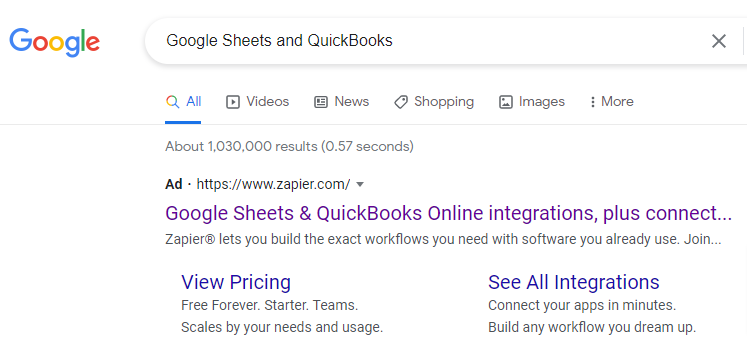 And the corresponding Zapier landing page: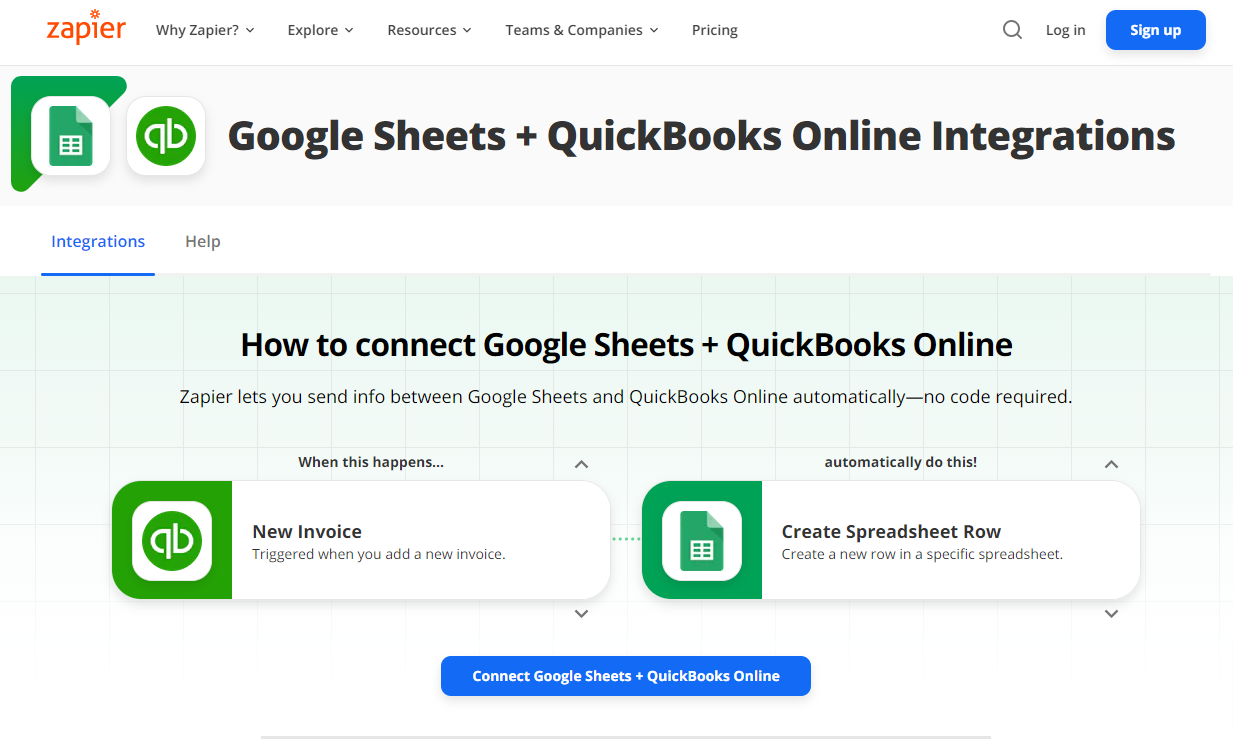 Zapier creates bottom-of-the-funnel pages (for search and ads) for people looking for integration software.
PPC for SaaS Takeaways
If you learn one thing today it should be that the most successful SaaS PPC campaigns involve targeting across all the sales stages. Meeting your prospects' intent with ads, landing pages, and offers is the most effective way to reduce ineffective ad spending, and move those users down the sales funnel.