This is a tried and true guide to SaaS SEO for companies looking to increase their traffic, rankings, and ultimately, sales.
We've used this exact strategy to help countless SaaS companies get 100s of thousands of visits from SEO.
So tune in, buckle up, and enjoy the ride.
Here's what you'll learn:
Ensure Issue-free Technical SEO with an SEO Site Audit
Perform Keyword Research for the Top, Middle, and Bottom of the Sales Funnel
Perform an SEO Competitor Analysis to Understand the SEO Landscape
Write SEO-optimized Product, Solution, and Blog Content
Use "The Skyscraper Technique" for Content Marketing and Link Building Prowess
Ensure Issue-free Technical SEO with an SEO Site Audit
The first thing you want to do to ensure you have a strong SEO foundation for the rest of your efforts is to address any technical issues your site might have.
SEO technical audits are relatively straightforward, but your site may not rank to its full potential without addressing technical SEO issues even if you do all the other things on this list right.
The good news is that you can find any technical SEO issues your SaaS site might have with existing, free tools: Google Search Console.
After logging in, go to the Coverage area of the site to see what types of technical SEO issues your site may have.
The "Error" section shows how many pages can't be indexed by Google. If your site looks like this one with zero issues, you are in pretty good shape.
However, I can see that 240 "Excluded" pages were intentionally not indexed. This is probably a non-issue, but I'll want to check them out to see if I do want these pages to appear in Google.
After drilling down a little further into some of the non-indexed examples, I can get more details and decide whether or not these should be left alone or included in the index.
Any issues I see in the Coverare report should be addressed to make sure my site's health is as good as possible.
For an even deeper dive on your site's technical SEO issues you can use a tool like Ahrefs Site Audit or other popular tools like the SEMRush Site Audit or Screaming Frog SEO Spider.
According to the Ahrefs site the tool will help to check for issues related to:
A tool like this is great because it allows you to run automated reports, but the Google Search Console tool is highly effective as well.
Note that technical SEO increases in importance the more traffic your site receives. For new sites it may not hold as much weight, but for higher traffic sites it can be really detrimental to your success.
Now that we've performed an SEO technical audit of our SaaS site we can move to the next step.
Perform Keyword Research for Top, Middle, and Bottom of the Sales Funnel
Now it's time for the fun stuff: keyword research.
But what is SaaS keyword research for top, middle, and bottom of the sales funnel?
The purpose of this type of keyword research for a SaaS website is to drive traffic for searchers who have varying levels of intent.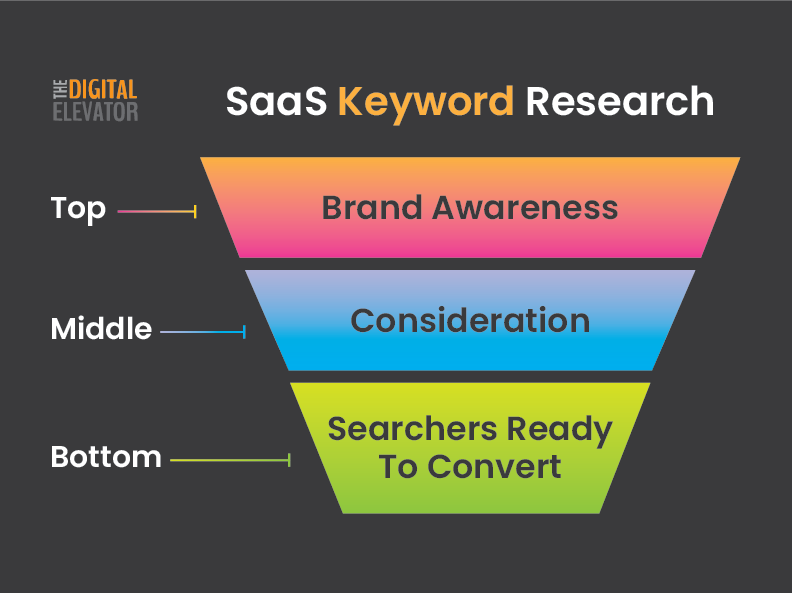 This is important because you want to attract people to your SaaS at all stages of their research and interest in products like yours.
We have a very in-depth post on SaaS keyword research that you should check out, and I also encourage you to buckle up for this extremely informative video:
Let's take a look at some of the top keyword rankings of Unbounce, a popular landing page software, to see some of the differences between each stage of the sales funnel.
Here, we can see that most of the top keywords are top of the funnel and informational:
What is a landing page
Landing page design
We also see some middle of the funnel keywords related to commercial intent:
Landing page builder
Landing page template
For a bottom of the funnel and decision making search, check out this branded search:
Here are some takeaways for SaaS keyword research that you can learn from the above:
Top of the funnel keywords generally have the most search volume yet have the least amount of intent for a transaction.

Ex. "What is a landing page" has 5,500 searches per month but this searcher is unlikely to be looking for landing page software at this point.

Middle of the funnel keywords have modest search volume and cater to the searcher who is discovering that there are software solutions out there that can be used.

Ex. "Landing page builder" has 1,600 searches per month but shows a high commercial intent of someone who is exploring different kinds of landing page building software.

Bottom of the funnel keywords are highly transactional in intent although they generally have very low keyword volume. These searches are often, but not always, branded.

Ex. "Unbounce ab testing" has only 40 searches per month but shows the intent of someone who is familiar with the software's capabilities and digging in to learn more before making a purchasing decision.
Now that you understand the different types of SaaS keyword research you need to do I'll show you an awesome shortcut to your research, starting with your competitors.
Perform a SEO Competitor Analysis to Understand the SEO Landscape
In SaaS SEO just like any SEO, the challenge behind top rankings is always about the competition.
So, before you begin creating any content and dedicating a bunch of time to it, you should see what the competition is up to.
You'll want to perform competitor keyword research around the same areas you intend on creating content.
I'd recommend doing this around product, solution, and blog pages to start.
Start with a simple Google search of one main solution your software provides, such as "landing page software" in the case of our Unbounce example.
With this search we can see a "best of" roundup post in the top spot, a People also ask section, our site, and a top competitor, Leadpages.
Let's use the competitor found in the roundup post, Instapage, as an example to see how they compare to Unbounce.
You'll need a keyword ranking software for this type of reverse engineering. We'll use Ahrefs for this example, specifically their Ahrefs Site Explorer tool and the Top pages filter:
We can sort through Instapage to gain valuable insight into what they are targeting, what they are ranking for, and more relevant information.
As you can see by looking at the URLs, most of the top pages on this site are blogs. This is consistent with our comment on top of funnel content having the most volume, and since this data is filtered based on traffic, it makes sense.
When finding this type of data, make a note of all the types of content that are relevant to your SaaS as topics to cover. Since the majority of this content is blog content, you should have a bunch of top of the funnel content you can create.
But what about product and solutions pages?
Since these types of keywords have less volume, they are buried a bit more in our keyword research tools. However, there is a shortcut to take that involves using the website folder structure of the products or solutions.
Let's take a look at how we can do that for Instapage.
In Ahrefs, you can look at data from a prefix, or in this case, a specific folder path. All Instapage's product pages fit nicely into this /products/ path, so I will use that to dig deeper.
Because I want to look at all keyword data from each of these pages (there aren't too many), I like to use the Site Explorer tool called "Top pages" under the "Legacy" section.
This gives me a nice breakdown of all their product pages with keyword data:
Now, I can isolate specific product page keyword data to see if I want to use the same keyword targeting for my product pages.
Let's isolate their landing page builder page as this is very similar to the Unbounce product.
I can see that the keyword that matches commercial intent with the most volume is "landing page builder." If I were creating a landing page builder product page, I may consider this keyword as my primary keyword target.
I could also consider the other keywords particular to that product page for secondary keywords to place in my H2s or elsewhere in my content.
Similarly, I can do this same type of SaaS product page keyword research for Solutions pages.
Pro Tip: When doing SaaS competitor keyword research compare at least three top ranking competitors to see if there is any variety in keyword rankings. Sometimes one site will target different keywords than another and understanding why can be helpful in creating your plan.
Write SEO-optimized Product, Solution, and Blog Content
Now that you have done your keyword research around product, solution, and blog content it is time to write.
It makes the most sense to create the foundational content for your SaaS website first, so I recommend creating the content for your product and solution pages first.
These are also your money-making pages, so spend some time creating effective content that really helps your SaaS stand out amongst competitors and by optimizing it for your target keywords.
Product and solution pages are very subjective to your SaaS, but you have a bit more flexibility in creating blog content.
However, you just don't want to find a bunch of blogs that your competitors are writing and ranking for and duplicate them.
There are multiple factors you need to consider before putting pen to paper (or fingers to keyboard).
Factors to consider before writing SaaS blog content are:
Is the topic related to a solution that my SaaS provides?
For example, check out these recent blog posts from Unbounce that are all related to a landing page solution.
Does the topic have ample keyword volume?
For example, does the primary keyword or the combination of potential keywords you can rank for add up to an attractive total.
Unbounce's page on "What is a landing page?" targets the following keywords (and 955 in total!) making for an attractive target:
How many links do I need to rank for the primary keyword?
The competition of a primary keyword is a very important consideration in determining how much effort you want to put into going after it.
Using the same example above, let's drill down on the top ranking keyword of "landing page" and see some data from Ahrefs.
This keyword has a Keyword Difficulty (KD) of 83 out of 100 and is estimated to take 427 links to rank in the top 10.
Consider Keyword Difficulty when analyzing content you might want to rank for.
As a good rule of thumb, early-stage SaaS websites should target topics with really low KD to give themselves the best chance of driving traffic.
Ok, now you have decided on some blog content to write and you are onto the next step.
Use "The Skyscraper Technique" for Content Marketing and Link Building Prowess
You may have heard of The Skyscraper Technique in the SEO world before.
If not, it is a content marketing and link building strategy made popular by Backlinko to drive lots of traffic and backlinks to one huge content piece. According to Backlinko, the steps to execute The Skyscraper Technique are:
Step 1: Find link-worthy content
Step 2: Make something even better
Step 3: Reach out to the right people
Step 1: Find link-worthy content
Finding link-worthy content is actually quite easy based on some of the steps for finding keywords I showed you above. The same keyword research tools also show link metrics.
For example, the Top Pages report – which shows you the pages with the most organic traffic – also shows how many referring domains (RD) a URL has.
Unbounce's "What is a Landing Page" guide has 1,377 links at the time of this writing!
This is a very linkable asset it seems. Now on to step two.
Step 2: Make something even better
The definition of "something better" is somewhat subjective. In the SEO world however, we can look at some key factors to determine how awesome a page is and why so many people link to it.
The Unbounce "What is a Landing Page?" page has a lot of great user experience queues.
For starters, it has a clean, simple to read design with lots of graphics and even a high-quality video.
It has custom infographics like this one above on how landing pages fit into a marketing funnel.
It also answers all types of questions related to landing pages such as "What are the types of landing pages?" These sections are very intentional and versed in SEO keyword research (remember our teachings above!).
The page is also super in-depth, coming in just shy of 2,000 words.
But one thing that really makes this page awesome is that it is part of a content hub.
Unbounce, in an effort to dominate searches around landing pages, have created this section on landing page articles.
In addition to the "What is a Landing Page?" piece, they have created seven other articles to compliment this classic Hub & Spoke model of content hubs.
If your SaaS is targeting a very specific hub topic, I encourage you to create your own content hub. Check out this post for some awesome examples, or this post on a great resource hub case study.
You could say that it would be really hard to create "better" content than Unbounce has around landing pages, but you could certainly try.
According to Ahrefs, the four criteria used to assess content quality are:
Content clarity
Content depth
Usefulness
Presentation
Check out their video on How to Create Content that's "Better" than Your Competitor's for an additional perspective.
Step 3: Reach out to the right people
Reaching out to people is perhaps the most important aspect of getting your content to rank. After all, we established that you generally need more links than your competitors to outrank them.
Basically, you want to perform outreach to site owners who have shown that they already link out to similar topics.
Here's how to do this.
Find the top 10 sites on a topic similar to yours.
Export the links pointing to your competitors into one spreadsheet
Filter your spreadsheet down and remove links from sites that are low-value directories, forums, or sites that may not meet your Domain Rating requirements (such as sub DR15).
Send a custom email with some personalization
Here's Backlinko's outreach example:
Now, email outreach to sites that already link to your competitors is not the only way to perform link building. However, if you want to play the numbers game it may be a very viable approach.
You can also consider guest blogging, podcast links, press mentions, or other popular link building strategies.
One criticism of The Skyscraper Technique is that it does not take into account Domain Rating.
From Ahrefs: Domain Rating (DR) shows the strength of a website's backlink profile compared to the others in our database on a 100-point scale.
For sites with a high DR, they may inherently be able to rank easier than you, with much fewer links than you.
So for SaaS sites with small DRs (<30) going after keywords that are dominated by sites with big DRs (>60), you'll want to consider this before you start Skyscrapering content.
The Benefit of SaaS Content Marketing
SaaS companies who invest in long-term content marketing strategies have a lot to gain, especially when compared to other marketing channels. Some revealing data from a ProfitWell survey called "Does Content Marketing Actually Work?" provides some of the following benefits: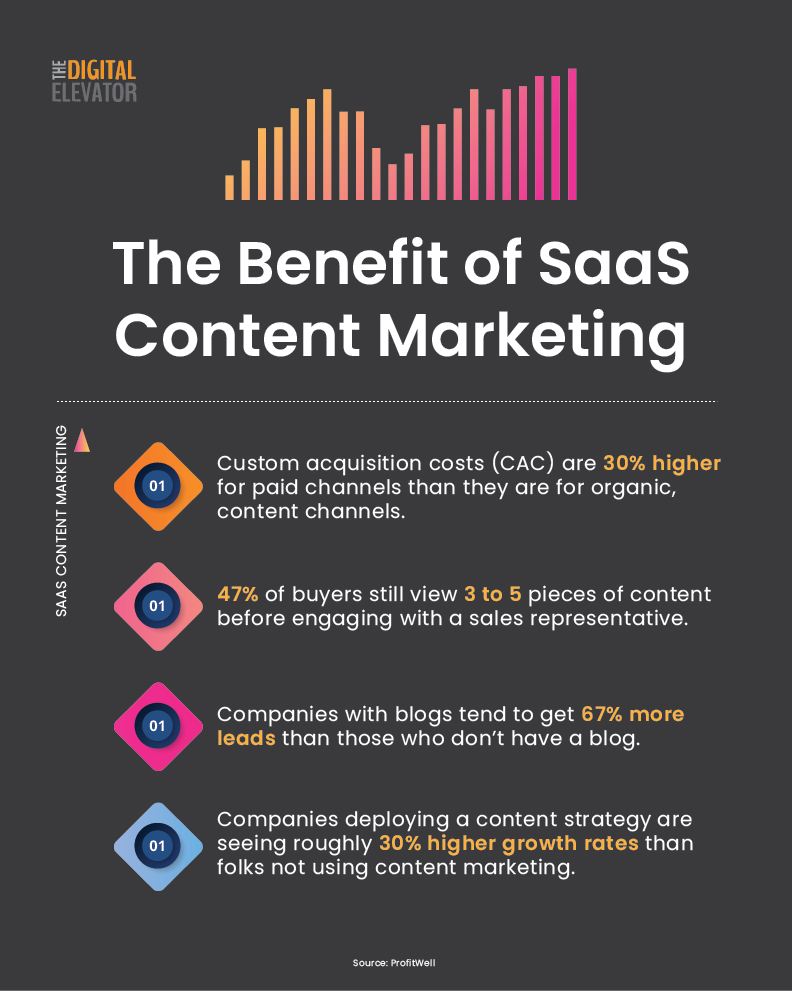 Admittedly, it is getting harder to stand out from all the noise as so many companies are creating good content. However, this data reveals that it is likely more costly to not invest in content marketing than it is to remain on the fence.
On to You
SaaS SEO is an investment in research, content development, and link building.
Done correctly, it can provide the best ROI of all your marketing efforts which makes it a very viable strategy to execute and get right.
If you need help with your SaaS companies' SEO, feel free to reach out and get a free consultation.